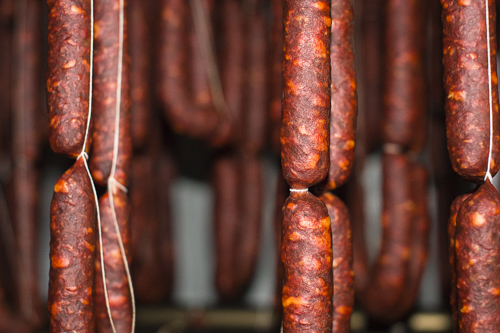 We met Santos Fernandez at the butcher's workshop of his family in the village of Ambasaguas making ready to prepare chorizo sausages whose name is derived from the particular type of pepper, which is used to give this sausage its special taste. However, he was using a type of pepper, which was in common use in the Basque country in the past, but not any more.
Santos and his three brothers, who are running the company, receive pig's meat and fat cut into small pieces from a slaughterhouse. We watched Santos select a fixed amount of meat and fat and put everything in a meat grinder. After having ground everything, he put the ground meat into a mixer. The pig's meat come from pigs who live freely outside like Joxean Bollain's pigs.
Another ingredient is the pepper choricero, a locally grown spice which is a common sight in the Basque countryside on the walls of houses where they are put to dry. A few days before preparation of the chorizo sausages is started, the peppers are soaked for two days, then they are pulped. Finally the stems, pips, and skins are removed, leaving the pepper sauce.
The pepper sauce together with flour and salt are added to the ground meat before turning on the mixer. After having mixed everything thoroughly, the mixture has an orange colour because of the pepper. The contents of the mixer is poured into a container and during our visit on a Friday, Santos made the sign of the cross on the top of the mixture following ancient traditions in the Basque country. Then, he rolled the container into a refrigerated room where the mixture would stay until Monday when it would be turned into sausages. Finally, they would be smoked using oak from local forests.
By doing this type of work, Santos is continuing the work his great-grandfather started, followed by his grandparents and his parents, 4 generations in all, following traditions, but also meeting today's sanitary requirements.
This company also makes "smoked trotters in vizcaina sauce", a dish deriving from the traditional slaughter of pigs. The trotters were conserved by salting in autumn and just after Lent when there was no consumption of meat, they were desalinated and stewed with choricero peppers. Then, there was a carnival in which the participants said good bye to greed and welcomed the re-birth of spring.
This company also makes cured beef, cured pork loin, and cured bacon all of which are sold in its two stores.