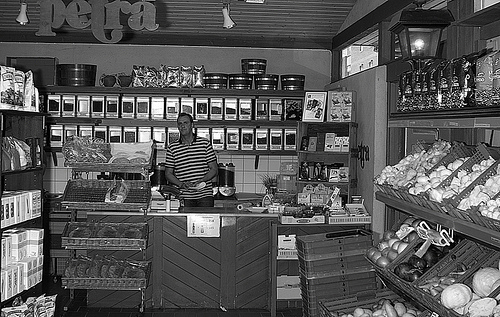 A well-stocked greengrocer's, called Petra frukt og grønt meaning Petra fruit and veg, is located near the railway station in Asker. Stein Jarle Svardal and Frode Bjørnseth are working in the store which they have been running for nearly 25 years.
Opening hours: Monday – Wednesday: 9 a.m. – 5 p.m., Thursday – Friday: 9 a.m. – 6 p.m., Saturday: 9 a.m. – 4 p.m. og Sunday: 12 a.m. – 6 p.m.
Fresh and delicious-looking salad in wooden cases delivered straight from a farmer in Lier just hours before with no plastic packaging in sight implied a quite short way from farm to shop.
The owners Jarle and Frode have obtained good relations with their suppliers such that they trust each other, meaning that their suppliers trust that their products will be stored and displayed well, while the owners of Petra trust that their suppliers will sell them products of prime quality.
Although the name of the shop indicates a greengrocer's, other products are also for sale. For instance, they are selling prime quality cheese from Tingvollost. Since Tingvollost only want dedicated merchants, selling their products show that the guys running Petra are considered to be genuinely concerned about selling high quality products. It's worth mentioning that Blåskimmelost Kraftkar, made by Tingvollost, has been awarded prizes three years in a row for being among the best cheeses in the Nordic countries.
Other local products include organic eggs and wheat flour from Berger farm at Hvalstad, while small glasses with jams and marmalades had been made at Haslum farm in Bærum.
We also noticed a wide selection of Italian products like, for instance, coffee, pasta, risotto, olive oil and balsamico vinegar. Frode let me know that they stay in contact with an Italian man in Norway who provides them with many of these excellent products. Then, Jarle told me that an olive oil they are selling was awarded a prize for being the best one among 6000 other types of olive oil. The olive oil was called Frantoi Cutrera originating from Chiaramonte in Sicily.
I would also like to know why they call their shop Petra, and I was told that Petra was the name of a clothes store residing in the same premises when they started their greengrocer's. Since the name was already known, they kept it.
During our visit, customers were arriving in fits and starts, and everyone could get attention from the owners if they wanted to. In addition, being knowledgeable about their products, their customers could get as much or as little help as they wanted.
Since Petra is open daily but bank holidays, some extra staff are also working there part-time. One of them did vocational training for a week when he attended secondary school, and he has been working there in most of his spare time ever since. Now, he's graduated as a lawyer, meaning that the owners reckon he will not work for them any more.
After having left the shop, we totally agreed that we had got a very good impression. Only products of prime quality are sold in this shop, always avoiding food additives if possible. Staff who know the products they are selling, a clean and tidy shop and reasonable prices all contribute to good shopping experiences.