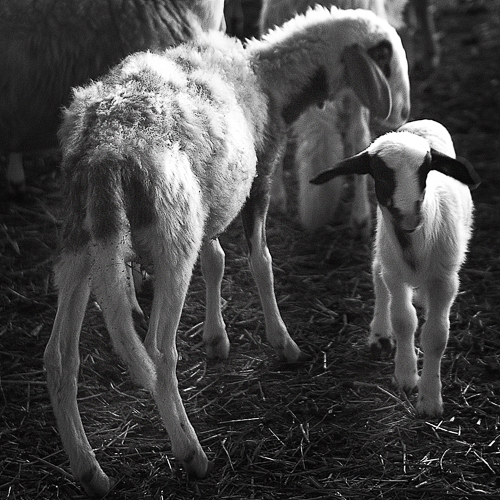 After having finished the wine-tasting at the regional wine bar in Jesi, we drove in-land to the Vito Celeste farm. Being a bit off the beaten track, my guide Raffaela had to ask a shepherd for directions. Reaching the farm after dusk, we met the owner Arturo Valentino working outside on some kind of machine.
The farm
The Vito Celeste farm has been family-run for about 20 years, and Arturo Valentino is running the farm which was started by his grandfather. They also have an agri-tourism which was founded in 2004.
Arturo willingly showed us the shed where their animals were living followed by, maybe up to 8 big, white dogs.
The Jersey cows
The cows come from Jersey in the English channel. The milk of the Jersey cows contain lots of fats and proteins and it resembles sheep's milk. In general, 100 kilogrammes of milk gives about 20 kilogrammes of cheese and a Jersey cow gives about 13-14 litres of milk daily.
The average age of the cows amounts to 8 and a half years. Insemination takes place when they are about 2 years and it's completely natural by means of one of the farm's 3 bulls. The animals stay in the sheds more or less all the time. The meat of the calves is of exceptional quality and it is served to the guests of the agri-tourism.
The sheep
The sheep are of the race Comisana, originating from Sicily, characterised by a red-brown muzzle and ewes producing about 2 litres of milk per day.
The race is mainly spread around Sicily and Calabria, but it's also present in some regions of the centre and in northern Italy due to its great adaptability to diverse environments,
The wool is cut annually by master shearers coming all the way from Australia.
The cheeses
The farm is producing yogurt, soft cheese and mozzarella cheese.
The sheep's cheese contain other types of proteins than the milk of the Jersey cows.
Selling of their products
The farm is selling their products to groups of supportive purchasing, delivering directly to their representatives. Lots of customers go to the farm in order to buy their products, which aren't sold at any other shops.
The harvests
The farm is growing the following types of forage for the animals:
barley
hay
alfalfa
field bean (vicia faba), a type of legume able to prevent erosion because they can over-winter and fix nitrogen in the soil
maize
soya bean
Wine tasting
After having seen their animals, we were invited inside for tasting their cheeses and having a glass of wine. Since Arturo was using a dialect which was more or less incomprehensible to me, I had to ask Raffaela for a translation on the way back home.