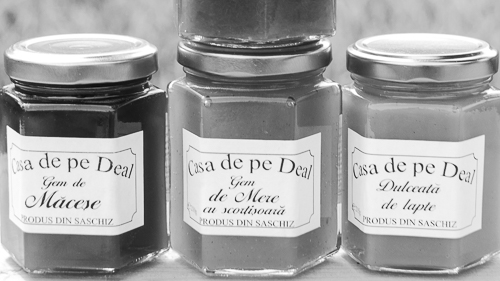 During our visit in Saschiz, we went to Anca and her husband Charlie for our meals. Anca, making typical Romanian dishes for us, prepared three-course meals at both lunch and dinner together with home-made wine. Coming from a cool country like Norway to a hot country like Romania, it was great to sit outside in the shade being served delicious meals.
Anca and Charlie, being hospitable hosts, willingly told us about their farm, their products and their plans. Anca, a local woman, had inherited the place we were visiting, but first she had to buy the shares of her siblings in order to have the farm for herself.
Now, she and her French husband Charlie are making many types of jam with or without milk, using rhubarb, apples, rose hip, strawberries, mint, onions and green nuts which they sell directly from their farm and on mail order across Romania. They also sell pickled chilis, all based on old Romanian recipes.
Since Romania has become a member of the EU, their food production has to be in accordance with EU regulations. Unfortunately, they are meant for big households, even factories, while a wife and husband enterprise like theirs is not covered. Fortunately, the local food inspectors have been flexible not requiring Anca and Charlie to follow the rules exactly. Having been shown their kitchen for preparing their products, it looked okay to our untrained gazes.
In addition to making the products mentioned above, they also have a large garden above their house all the way to a forest on top of the hill. There, they grow a wide variety of vegetables like salad, onion, etc.
They also want to have a guesthouse, but again, they have to follow the EU regulations meaning that they still can't offer accommodation.
Since we went from Saschiz to a sheepfold by means of a horse-drawn cart. we let Anca prepare lunch for us. As expected, it was delicious, but not unsurprisingly, far too much.