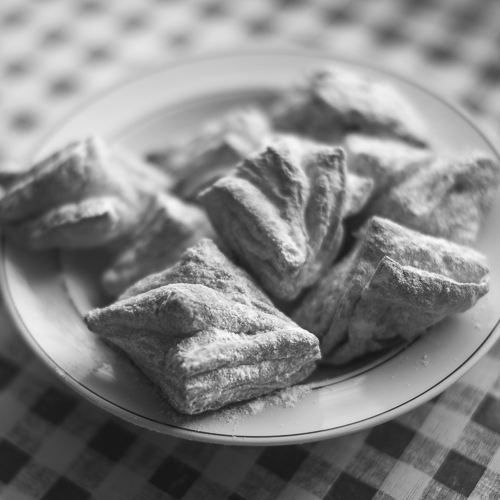 Cakes called Hájas tészta
Attila asked me what kind of small-scale producers I would like to visit in his area, then I mentioned a bakery or a confectionery. After some phone calls, he had tracked down the confectionery of Mrs Anna Olah Nagy.
Before, the locals came to her with ingredients and asked her to make a cake, but often it wasn't enough and she had to add some. Moreover, they didn't pay since they had brought the ingredients, but she got tired of it. One day she set up a sign on the gate that cakes were for sale and people started buying them.
She learnt baking from her mother and grandmother, who still helps a lot even though she's 92 years old.
When we visited her, she was making a cake with pig's fat called Hájas tészta. The finished cake resembles Danish pastry with its airy consistency.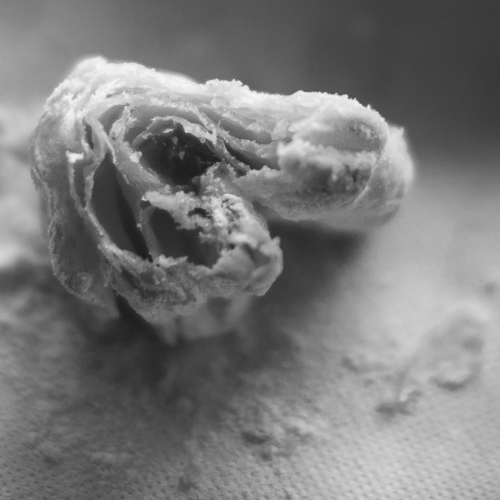 Inside a cakes called Hájas tészta
She flattened the dough with a rolling pin and hit it with the same utensil.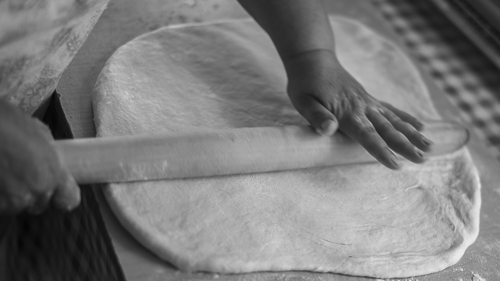 Rolling the dough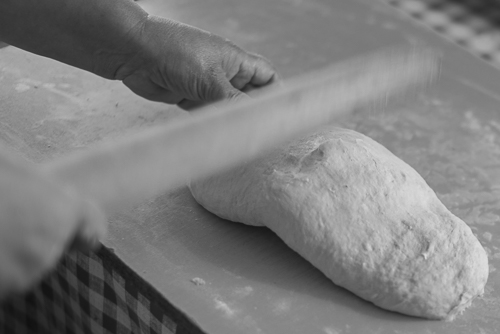 Hitting the dough with a rolling pin
Next, she put fat on the dough and spread it out over the whole surface.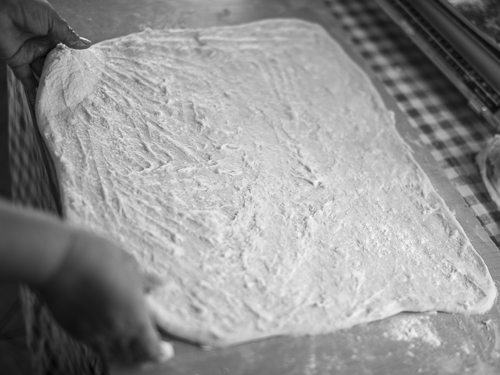 Putting pig's fat on the dough
She folded the dough in a certain way, folding it on the long sides, then on the short ones until she had made a block of dough.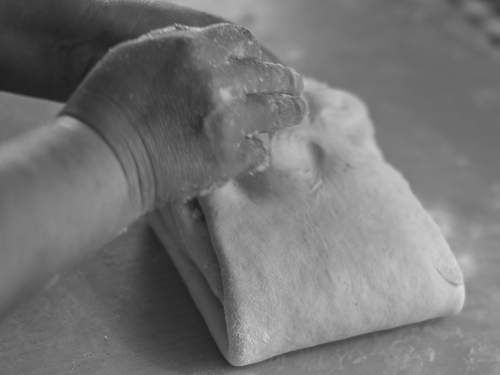 Folding the dough
Finally, she put the fat on top of the dough and put it in a plastic bag, letting it rest for about 20 minutes.
She would do the same three times and it takes 4-5 hours to make this cake.
Fortunately, she was making two of this cake on the same day so we didn't have to wait long before she did the same procedure again. Then, small bumps appeared on the surface and she told my guide that it was a sign of quality.
There should be two weddings in the weekend and 60 kg of cakes was required for each wedding.
This is her only job and she's working at home.
When she makes cakes for weddings, etc. she starts on Tuesdays or Wednesdays and finishes on time on Friday or Saturday.
She showed us a cake with marzipan flowers. In fact, she makes marzipan and shapes it into flowers.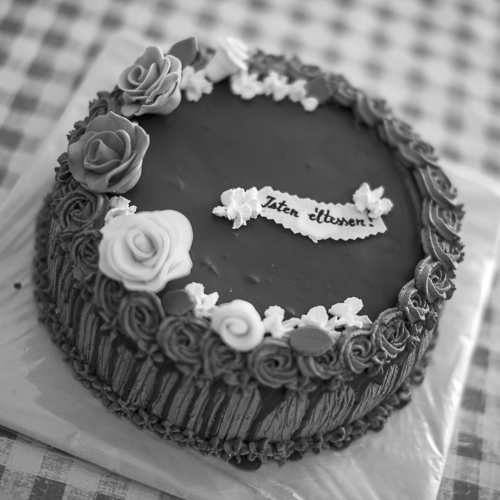 A finished cake
She also makes cookies and cakes without orders and advertises them on her facebook page and people are coming to her confectionery to buy them. There is also a small shop with products from small-scale producers in this area and it's possible to buy her products there.
She has two children, one son in Switzerland and a daughter in high school. She helps her mother in summer holidays.
Her family has a guesthouse in the mountains and they also have some pigs, which they slaughter for meat for themselves and their guests. They also take the fat, which is located near the stomach of the pig, and use it for making Hájas tészta.
The house is located near the main road passing through the village of Ghimes-Fáget near the Antal guesthouse.
Before we left, she generously gave us a lot of the cakes she had been making earlier in the day.