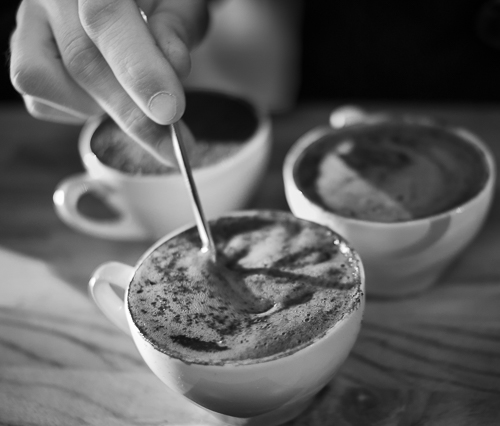 Slow Food Oslo asked Tim Wendelboe to arrange a coffee course at his coffee bar and 13 participants followed with interest his discourse on production and making of coffee.
While the big coffee importers in Norway mainly import coffee from huge plantations in Brazil, Tim Wendelboe Ltd. import coffee as far as possible from small-scale producers located in countries like Ethiopia, Colombia, Honduras and so on. In fact, the producers work in cooperatives, which sell coffee to Tim and other purchasers. Alternatively, it's possible to buy coffee at auctions where producers of excellent coffee may get very well paid (up to 14 times the market rate).
All the coffee, which is for sale in the coffee bar of Tim, is hand-picked by workers who are paid to only pick mature coffee beans. In general, the workers pick more or less all sorts of coffee beans, put the harvest in a machine, which sorts them in various categories. Instead, Tim pays more in order to lessen the requirement to mechanical selection.
After having sorted the coffee beans, they have to be dried before they are shipped by boat to, among others, Norway where they are roasted, that is they are heated at a certain temperature and humidity. Finally, they are blended, ground and packaged.
Else, Tim told us that the coffee producers in the Tropics export the best coffee beans, only keeping the beans of poorest quality. Thus, he advised us to don't go to coffee-producing countries in order to drink the same coffee as the coffee producers.
We finished the coffee course by blind tasting 8 types of coffee. Tim poured small amounts of ground coffee in 3 cups at a time, then he asked us to smell each type of coffee and we could also set up a list of each fragrance if we wanted to. The fragrances were very different and made me realise that there are many types of coffee. Next, Tim poured boiling water in each cup, removed the foam appearing on the top of each cup and showed us how we should taste the final product. He did it by slurping in order to really feel the taste of the coffee. After having tasted all the types of coffee, the winner was a coffee from Ethiopia which had cost 14 times the market rate. The worst coffee had been made from coffee beans obtained from too mature coffee beans. According to Tim, too mature coffee beans will start fermenting and should be sorted out before getting sold.
A great course was finished with a delicious cup of coffee before we left.
Please click here if you want to know more about the history of coffee.