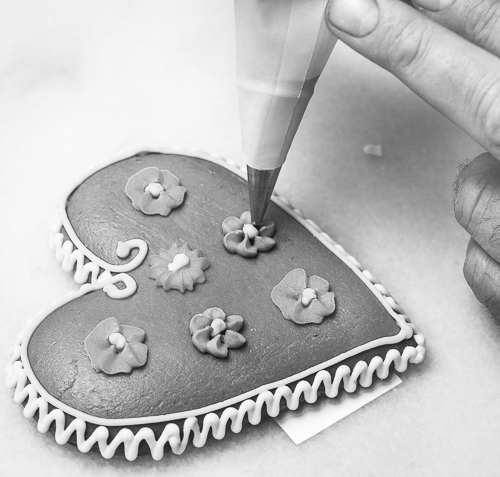 Gingerbread is a sweet food-product flavored with ginger and typically using honey rather than just sugar. Ginger is a flowering plant whose stalk is widely used as a spice or a folk medicine and, according to the same article, it was brought to Europe in 992 by the Armenian monk Gregory of Nicopolis. Now, more than 1000 years later, gingerbread is as popular as ever, and we went to visit a family who make gingerbreads for a living. Mr. Gábor Farkas kindly let us in to the workshop where he and his wife Magda make gingerbreads in addition to candies shaped like fish, a local specialty, and lollipops. Actually, in Romania, gingerbread is called turtă dulce and it is commonly covered with a sugar coating.Visiting the Farkas family, it seemed like they had turned sugar coating into an art form as shown here, here, here and here.
Since the Farkas family have to compete with various big producers of gingerbreads, they didn't make anything during our visit because they still had lots of gingerbreads to sell. After having visited the workshop, which didn't contain any machines, and as Mr Farkas told us, they do everything manually, we were allowed into their kitchen where he introduced us to the story of gingerbread in the town where the Farkas family live.
This town resided in Austria-Hungary in the late nineteenth and the twentieth centuries when it was called Szekler Neumarkt. It was famous for its artisans and it was called Little Paris because of its many masters of crafts. Gingerbread used to be made by women working on their own, but in 1906 a master from Timisoara arrived and he introduced decorations to gingerbreads. This led to that the production of gingerbreads increased and a family called Kosa were producing gingerbreads for 60 years. Unfortunately, the female elder of the Kosa family died without passing on the recipe, but another member of the Kosa family had a written recipe such that the Farkas family were able to recover this tradition, which they started in 2003. Mr Farkas told us that they had been experimenting for 2 years, but they were still learning how to improve their products.
Although they make gingerbread, they first have to make a dough consisting of flour, sugar and water to which they add ginger together with aniseed and brown honey. They have a wide selection of metal moulds into which they press the dough in order to make shapes like hearts, flowers, horsemen, cars, etc. However, Mr Farkas is also able to make new moulds if the need arises. Regarding the sugar coating, it consists of water, sugar and food colours, the last ingredient being used as sparingly as possible. The wife of Mr Farkas is using a piping bag in order to make the decorations.
Gingerbread is used for celebrations and events like baptisms, weddings, etc. Many songs are related to these activities in Romania.
The Farkas famiy are members of the Guild of Craftsmen in Transylvania and in 2011 they got a "Szekler Product" license.
Last but not least, note that Szekler is a German word for Székely, which means Hungarian-speaking people in Transylvania. In the Middle Ages, the Székelys together with the Saxons formed a line of defence against invading Ottoman forces.
For a history of gingerbread please have a look at this web site.