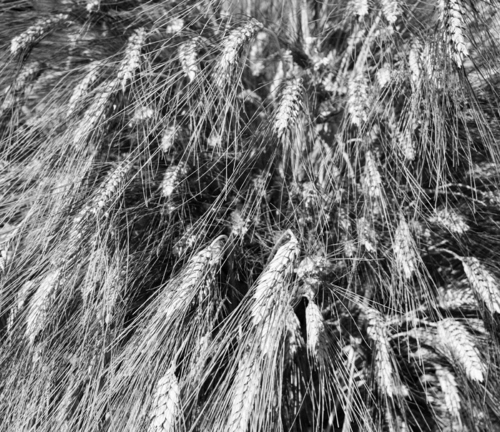 When we arrived at "Su Massaiu" of Fernando Atzeni, the parking space was full of cars. Having passed a wide courtyard with a swimming pool, we entered a hall were lots of people were having lunch. While the other guests were leaving, I was enjoying a delicious lunch consisting of typical, Sardinian courses, prepared with lots of care by the wife of Fernando. After lunch, he was more than willing to show us around the farm and answer our questions.
He started cultivating the land in 1981 and shifted to organic agriculture in 1995. From then on he never thought about returning to conventional agriculture although organic agriculture has a lower yield and requires more work, the resulting products have higher quality and don't require expensive artificial fertilisers or pesticides.
Fernando is growing a type of wheat called Cappelli, which was developed by an Italian geneticist who crossed wheat varieties and within a few years developed new high-performing hybrid combinations in the 1910s. However, he named the new type of wheat Cappelli in honour of senator Raffaele Cappelli who promoted an agrarian reform at the same time. Actually, the Cappelli wheat is a progenitor of modern durum wheat, but it is still cultivated in order to produce high quality pasta and organic bread.
Most of the wheat which Fernando produces is sold to a seed company called Selet which select the seeds, put them in boxes with labels, certify them and sell them. The rest is delivered to a stone mill, called "La pietra e il grano", in Nurri near Cagliari. There, the wheat is slowly turned into semolina in order to avoid overheating and keeping all the nutrients of the grains. Besides, wheat germs are also extracted and both semolina and wheat germs are used in the kitchen of «Su Massaiu» in order to make pasta, bread and sweets. Moreover, legumes, in particular chickpeas, lentils and fava beans are also cultivated at the farm together with vegetables like courgettes, eggplants, peppers and tomatoes, diverse fruits for making jam and almonds for making sweets. Naturally, olive oil is also produced together with olives in brine and all the above products are served to their customers at their guest house.
A typical, regional  product, melons which are not irrigated, are also cultivated at this farm. The seeds are planted in May and are allowed to grow according to the environmental conditions surrounding them. In fact, we were shown some melons which had been growing without irrigation and they looked surprisingly fresh.
Since no animals are raised at this farm, meat products are bought from a cooperative called "27 febbraio" which produce meat products from domestic animals in Sardinia only and it's certified to supply guest houses with high quality meat products.
"Su Massaiu" also arrange educational itineraries where visitors are offered the possibility to get know life on a farm and the cycle of edibles, discovering how grain is harvested and turned into products like bread, pasta and sweets. In fact, Fernando organises an activity called "The itinerary of grain" in which visitors are shown types of work like threshing and harvesting, continuing with milling the grains and finishing with baking.
Moreover, in summer at Turri, there is a "Festival of threshing and harvesting" where some of the participants are wearing traditional clothes, grain is harvested by means of sickles, threshing is done by a machine drawn by oxen or an ancient tractor, all accompanied with cultural events and tasting of typical, local products.
I'll finish with a thoughtful quote of Fernando: the rural world appears remote nowadays, but it is there, quite near us, but at the same time far from us maybe because nobody has guided us to its discovery.  The countryside is a real, cultural world, which where guarded and conserved by our grandparents.