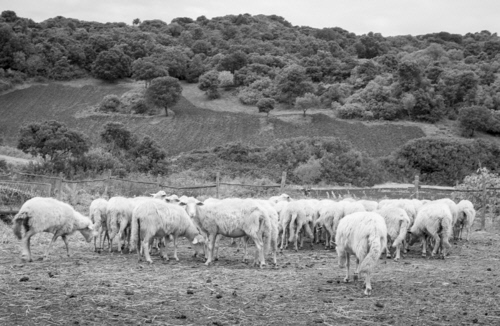 Having visited the Old Stone Mill, we followed Roberto Atzeni to his family-driven farm and guest house, Terra Noas, which is situated in a place called Sa Meliana, surrounded by lovely hills and forests.
The parents of Roberto, Nicolò Atzeni e Liliana Zucca, bought the lands in 1989. Today, the guest house consists of a large hall for meetings and receptions, some rooms for the guests, a big kitchen for making bread and sweets using the flours made at the Old Stone Mill, a wine cellar and a classroom for receiving children at their educational farm. In fact, this enterprise has been offering educational activities at the farm since 2002 and they include, but are not limited to the following:
Grain – from seed to flour
From grapes to wine
The animals of the farm
Organic farming
Mediterranean flora and fauna
Milk – from fodder to raw milk and cheese
By letting children experience these educational activities, they learn about life at a farm, about cultivation of edible plants and production of, for example, milk, and they get to know how agriculture is practised in this area.
Since animals like sheep, cows and horses are being raised at this farm, there are various buildings for the animals like a shelter for the sheep, a milking room, a stable for the horses, a pigpen with a shelter and a cowshed with a pen.
In fact, having visited the guest house, we followed Roberto to where some the animals were living, amongst others: sheep and lambs, rabbits, chickens and Limousin cattle.
Roberto and his family butchers their animals themselves and turn the meat into various courses, while milk from the animals is sold to a cooperative called Cooperativa Allevatori Ovini.
The Atzeni family also do organic cultivation of olives, grapevines and various vegetables and they are producing olive oil, pickled olives, wines like Cagnulari, San Giovese and Vermentino besides vegetables like tomatoes, courgettes, eggplants, peppers, chili peppers, etc.
Naturally, all of the vegetable and animal products are used in the kitchen of the guest house in order to prepare typical Sardinian courses for their guests.
It is clear that this is a multi-functional enterprise well managed by competent persons who are capable of recognising the richness of their territory.