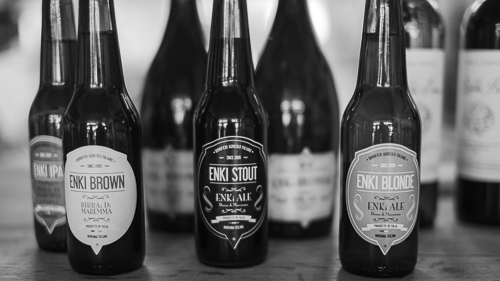 Having passed the town of Alberese and driving towards Marina, we turned left and arrived at the farm after having gone a short distance on a gravel road.
"Frank" is the name of a red wine , while "Serafico" is the name of a white wine. Actually, the name serafico derives from a midge, which is called serafico in the local dialect and which lives in the coastal regions of Maremma.
We met Pier Paolo Pratesi, a young oenologist and entrepreneur who started making beer as a hobby many years ago.
In 2009 he and his friend Fabrizio Testa, another oenologist, founded this farm. Their objective was and remains to produce their own wines and beers with ingredients cultivated at their own farms.
The following grape varieties are cultivated organically, among them white ones: Vermentino, Sauvignon Blanc, Fiano  and Petit Manseng; red ones: Sangiovese, Ciliegiolo, Merlot, Cabernet Franc, Alicante  e Carménère  .
The selection of wines can be found here.
Cultivation of the grapevines and wine-making are done using both traditional and modern methods. The guiding principle is to make wines in a sustainable way and letting quality be more important than quantity.
Regarding the beers, all of them have a name beginning with Enki who was a deity in Sumerian mythology.
As stated in their web site: "Enki is the god of the fresh waters on which the earth floats and gives birth to life. Our dear Enki loved beer so much that his daughter, Ninkasi, became the beer goddess. A superb host of feasts and banquets, when he was too drunk, he was said to give talismans and super powers to his diners, forgetting about it all the next day, hence creating great turmoil. It is to him and his sane folly that we have decided to dedicate our beer".
As regards the ingredients for making beer, they cultivate barley, which is turned into malt, and hops whose leaves are dried before being turned into pellets and used for adding a bitter flavour to the beer and for finishing off unwanted bacteria.
The other necessary elements are yeast, which is bought from a yeast producer and tap water. Thus, malt, yeast, hops and water are used to brew beer in an English way like brown ale, pale ale and India pale ale.
The beer selection can be found here.
The wines and beers, which are made at this farm, are exported to Germany, Switzerland and the United States.
This farm also has a restaurant from which guests can have a look at both beer- and winemaking if they arrive when production is made. In addition, there are tables outside the entrance where guests can enjoy their meals.
Guests at the restaurant can also order fresh bread and pasta whose flour has been derived from grain grown at this farm together with various jams with berries grown at the farm. Vegetables grown at the farm are also used in the dishes, which are served in the restaurant.
The walls of the building housing the restaurant, wine cellar and brewery are covered with vines, making the outdoor space green and pleasant. It's highly recommended to enjoy delicious meals from the restaurant with excellent wine or beer, while at the same time enjoying the greenery and the quiet atmosphere of this place.