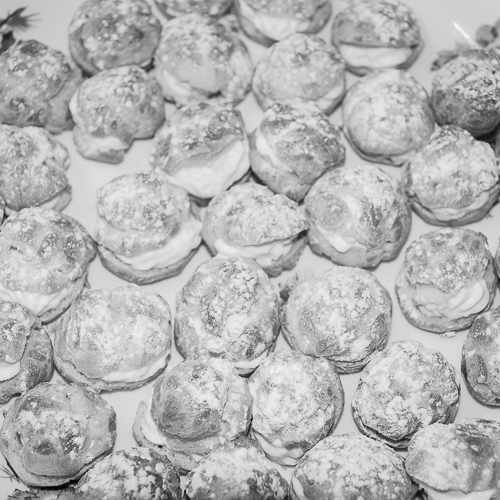 Gabriela Gorostiza invited us to have dinner at her home during my visit to Bilbao. Originally, she studied business and worked for 24 years in a bank. Following her mother´s and grandmother´s tradition, she always loved cooking, such that she asked for a sabbatical year from her work in order to study at Cordon Bleu in Paris  as well as to travel to India, the country she is in love with.
In 2013, she lost her job because of the big recession in Spain. Then, she decided to study cooking, food preparation and catering in the Basque Public School of Leioa. After two years of preparation, now she works as a cook, but as she loves cultural exchanges and she is a great friend of my guide, she invited us to have dinner at her home with her family.
She prepared for us local "pimientos verdes", green peppers, fried in olive oil, "croquetas" in different tastes, "pimientos rellenos" a kind of small red peppers from Navarra stuffed with meat in a Spanish sauce and for dessert some "profiteroles" and a delicious ice-cream. Everything was home-made with local products and she explained how she made each dish and we could see the final steps in her kitchen.
Gabriela is very thoughtful and the table was prepared with attention to detail. We spent a great time with her and her family.
In addition, she does catering and she has given courses to acquaintances on how to cook Spanish food. My guide is trying to persuade her to do arrange meals for foreigners, but as of yet, she hasn't decided to do it.