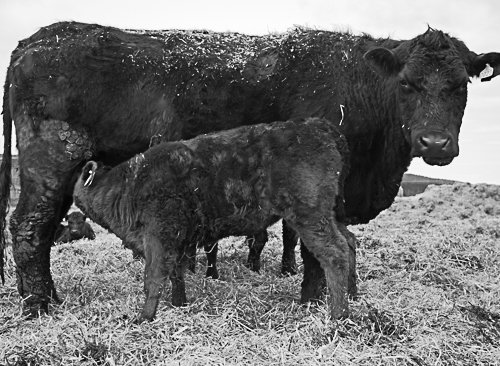 Horgen gård produserer økologisk kjøtt og avlsdyr på storferasen Aberdeen Angus. Gården startet med økologisk drift i 1989  og fra 1999 har gården vært drevet 100% økologisk.  I tillegg til kjøttproduksjon dyrker gården korn og frø til økologisk gressproduksjon.
Slow Food Oslo sitt "jord til bord" prosjekt tok turen innom Trond Qvale på Horgen Gård en kortreist avstand (50 km) fra Oslo. Trond viste stolt frem sine Angus storfe som går ute hele året. – En hardfør og fruktbar rase som gir et flott marmort kjøtt, kunne Trond fortelle oss.
Se de flotte bildene John Tollefsen fikk av Aberdeen Angus
Er du interessert i kortreist og økologisk kjøtt så ta kontakt direkte med Trond Qvale på Horgen Gård. Les mer på : www.horgengaard.no
Source: wikipedia at http://en.wikipedia.org/wiki/Angus_cattle: Aberdeen Angus is the original name of the breed, which was developed in Scotland from aboriginal cattle native to the counties Aberdeenshire and Angus. The vast majority of Angus cattle originate from a bull and a cow born in the early 1800s. Angus cattle are hardy, undemanding, and adaptable; they mature at around two years of age, and have a high carcass yield with marbled meat. Angus are used as beef cattle and are not used for milk intended for human consumption.