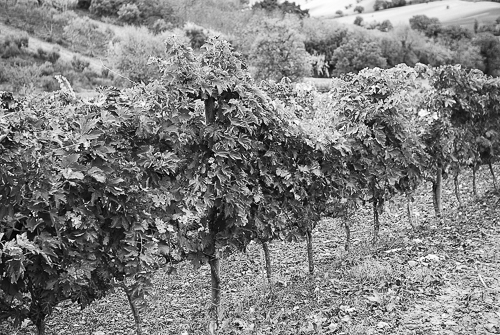 This wine farm produces the wines Rosso Conero and Marche Rosso IGT.
They aren't using any herbicides or any chemical fertilisers, and even though the wine farm isn't organic, the environmental impact is low.
The grapes may be collected 4 years after the vines have been planted, but an optimal production has to wait until the vines, which  have been bought from a nursery, are about 10 years old.
The grapes are collected at different times of the year starting with Merlot at the beginning of September, followed by Cabernet Sauvignon at the end of September, and Montepulciano in October.
The wine farm has a wine cellar containing 30 oak barrels. When a barrel is filled with red wine, the wood will absorb some of the wine. Two schools of thought exist regarding how to counteract this effect: either refill the barrel according to the amount of wine which has been absorbed by the barrel or just accept that a certain amount of the wine, on the order of 10%, will disappear. This wine farm prefer to keep the barrels closed during the ageing, meaning that they accept the inherent loss. Naturally, the oak barrels will contribute to the flavour of the wine.
The dregs are transported to a distillery in Pesaro in order to make grappa.
The owner of the wine farm has been taught that the three most important things in wine production are represented by three letters of C: cleanliness, cleanliness, cleanliness!