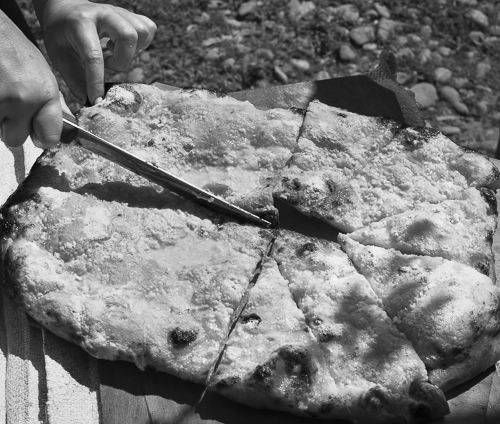 Guse is a traditional cake made by Hungarian-speaking people in Transylvania. Ms. Ilonka had got up at at half past five in the morning in order start making the dough, then let it leaven until our arrival at about 10. In fact, she had prepared about 10 bun-shapes of dough with a diameter of about 15 cm.
Upon our arrival, she put flour on a long-handled shovel and applied it evenly, next she put the dough on the shovel, flattened it and shaped it flush with the shovel. Next, she applied a mixture of crude cheese, sour cream, vanilla, sugar, lemon peel, eggs on top of the dough, applying it evenly before putting it into the wood-fired oven, let it bake for 5-10 minutes and extracted it with the same shovel. Finally, her daughter put on melted butter and sugar on the cake.
We were allowed to eat as much as we wanted when the cakes were finished, but we had to stop eating after a short time because the stomach got full after a short time.
Like many others in this village, the Ilonka family live in a former farm, but now they have only one horse and one cow.
The town of Marefalva (Satu Mare) is famous for its Szekler gates and a guide from the local tourist office showed us most of them after our visit to the Ilonka family. Besides, we were told about how they were used, what some of the carvings meant, etc.