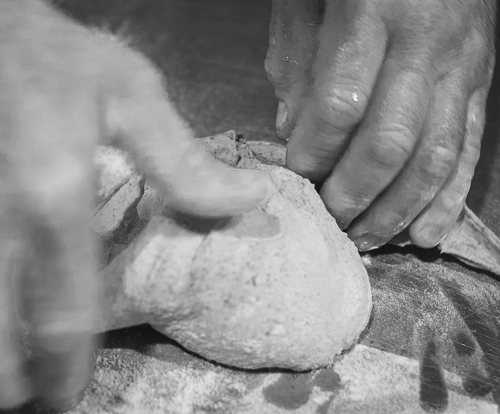 Entering the Mateo bakery and confectionery on the outskirts of Laguardia early in the morning, we were met by a pleasant smell from freshly made bread and pastries. Inside, the owner Josean Mateo and his assistant Pedro de Sorzano had been working since one o'clock in the morning. Both of them willingly showed us their way of working using a combination of manual work and machines like kneaders and dough rollers. Having kneaded the dough in a kneader, they took out a part of the dough, cut out small pieces and formed them manually into spheres before putting them in a machine which shaped them into long, thin, and cylindrical shapes. Then, they laid them on metal boards with grooves where there was space for the dough to leaven. Having finished a set of metal boards and put each one in a rack, they covered everything with a cloth such that the leavening would be left in peace.
They also showed us their wood-fired oven, the only one in this area, where they regularly put big pieces of firewood into a chamber below the oven where lots of breads were baked at the same time on different drawers. In fact, they used some kind of height-adjustable roller in order to put the the breads to be baked into the oven and to take out the finished ones after baking.
They make various kinds of bread, which are called oil bread, water bread, barra, and baguette. For instance, they can vary the consistency of the breads just by increasing or decreasing the amount of water in the dough, varying the shape of the dough, time and duration in the oven, etc.
During our visit, locals entered the bakery, talked with the bakers, took some breads and put coins in a box as payment.
They also make more than 20 types of biscuits. Since sweets are a staple in the religious processions of the region and there are many religious festivals in Spain, there is a large demand. In fact, they make one specialty for each holiday.
Both Josean and Pedro started as apprentices when they were in their early teens. Since they are in their fifties, they have both worked about 40 years. Anyway, both of them looked surprisingly well given that they had been up working almost the whole night.