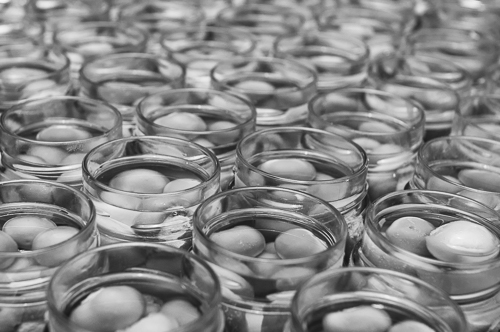 On the outskirts of Villacidro in an industrial zone, the company "Nuova Agricola San Paolo" or "New Agriculture San Paolo" is located. It's a family-driven enterprise, which has been working for decades with food from agriculture and whose specialties are production of dried fruits, conserves, jams and extra virgin olive oil. This company occupies itself mainly with fruits and vegetables from local producers, buying products of prime quality from producers they trust and they guarantee the traceability of their finished products, offering transparency and genuine products of high quality.
Having entered their place, we could see their wide selection of products among which:
Conserves of stuffed chili peppers, tomatoes in vegetable oil, thorny artichokes, wild asparagus, onios in sweet-and-sour-sauce, dried tomatoes, wild cardoon, beans, peppers,stuffed tomatoes, mushrooms and other types of fruits and vegetables.
Vegetable creams, in particular based on artichokes,but also carrots, chili peppers, onions, yellow peppers, dried tomatoes, wild cardoons, wild asparagus, olive and one based on tuna.
Jams of peach, strawberries, cherries, lemons and oranges with peel.
Extra virgin olive oil "San Paolo" derived from olives called bosana and nera di Villacidro.
During our interview, we noticed the meticulousness with which they are selecting and preparing their products, everything done manually and once prepared, they are bottled and pasteurised. Their products follow the seasons and they gather of course wild edible plants like asparagus, chicory, artichoke and cardoon.
They are always experimenting with new products like, for instance, jam of cactus pears, rough lemon, pumpkin and artichokes with bottarga.
One of the products we found most intriguing was tomatoes in salt being a typical Sardinian product, which was and is still being used, especially for making various types of soup, stew, thick vegetable soup and sauces. It's excellent as a starter with vegetables and it is well suited to be used as seasoning.
This way of conserving tomatoes was used in times past because there were no greenhouses and the only way of growing tomatoes all year. Instead, the tomatoes were dried and conserved in salt.
In fact, the owner of the company told us that this recipe was given to her by her mother, but it isn't well known in Sardinia, rather it was typically used in the region of Villacidro and the middle of Campidano.
Presently, the products of this company, in particular products in vegetable oil and dried tomatoes, are requested all over Sardinia, by some hotels in the north of Italy, by shops selling high-quality products only and some are exported to France.
Naturally, this firm participates at national food fairs in order to let more people know about how good their products are.
Anyway, those working at this company want to do the whole path themselves, that is from cultivation in the fields to finished products in order to offer consumers products of prime quality made entirely by hand.
We thank the people at " Nuova Agricola San Paolo" for setting aside time for us, showing us their work and telling us about their short-term and long-term plans for which they are aiming, being aware of that they are offering genuine products which are following Sardinian traditions.