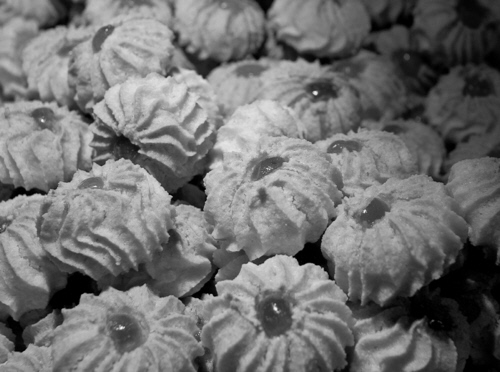 Cakes constitute an important part of the Sardinian culture because their preparation, from ancient times was connected like today to particular anniversaries. In fact, they were eaten above all at public holidays, but also at weddings, birthday parties, etc.
The bakery of the Faedda family dates back 35 years, being placed in the cellar of the house where they live in the village of Masullas. Having descended a gentle slope, we arrived at the entrance of their combined bakery and shop from which a delicious fragrance could be sensed. In fact, a counter, containing their finished products, was located just inside the entrance, while the bakery, consisting of various machines and workbenches, was located behind the counter.
The cakes are made by Teresa Faedda and her husband who founded their confectionery in 1977 a shortly after their wedding. The family of her husband made bread and she enjoyed making cakes, making it natural to start this company. Little by little, they extended their business and bought some machines, e.g. a machine for compressing the dough into a thin layer, a machine for mixing flour, water, yeast, but also butter, eggs, almonds and sugar in order to making and kneading dough and another machine for roasting the almonds.
Both of them emphasised that that it isn't enough to go to a course in order to learn how to make cakes, instead only practical experience counts. They have chosen a work of sacrifice where they start work at 5 in the morning and often finish late in the evening. In fact, we were told that in a certain sense you have to give up liberty and do hard work, but at the same time they feel a lot of satisfaction.
Teresa told us that she has gained so much experience that she selects the amount of each ingredient without weighing them. Besides, both of them make their cakes manually, only using local ingredients and especially adding no fragrances or colourings. In short, they are determined that their products should be artisanal.
Their products are in high demand and are sold to restaurants, but since they have to be fresh, they are only sold in Sardinia.
Their products include:
oss' e mortu
gueffus (with myrtle, with lemon juice, or simply with almonds)
formaggelle
pane saba
ciambelline
gattou
piricchittus (campidanesi)
pabassinos
piricchittus de bentu
amaretti sardi
bianchini
capigliette
torrone
Like all the Sardinian people we have visited, Teresa Faedda and her husband willingly set aside time to talk about their work.