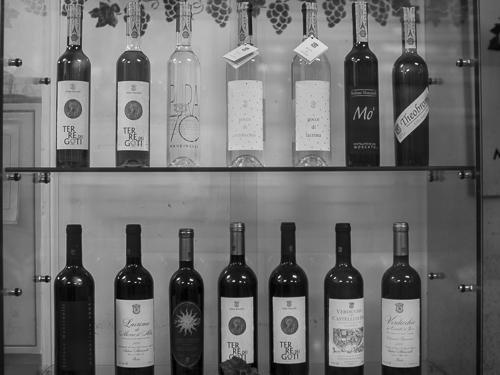 Arriving in early November, the grape harvest had finished in September, instead we arrived during the olive picking season. One of our first sights when we arrived at this farm, was someone loading olives through a netting working as a coarse filter for leaves and branches. After having passed the netting, the olives were led to a machine which extracted their oil. Unfortunately, there is almost nothing to see during this process and we listened instead to Stefano Mancinelli, the very friendly founder and owner of this farm. In addition to telling us about their products and how they are made, we were also shown around their premises, letting us see both the olive press, the wine tanks, the wine tasting room, the distillery and their shop.
The vines
The vines were planted in 1979 and the harvest takes place at the end of September producing about 1600 hectolitres per year.
The wine farm is mainly cultivating grapes called Tear (Lacrima in Italian) deriving its name from the fact that the grape skin cracks when the grape is mature, making the juice within the grape drip and making the grape seem like it is "crying". This makes it difficult to estimate the optimal timepoint of the maturation without risking to lose the entirety of the product. Unfortunately, heavy rains at the time of maturation may destroy almost all or all of the mature grapes.
The wine farm is producing Lacrima di Morro d'Alba D.O.C. and Verdicchio dei Castelli di Jesi D.O.C. Classico.
The Verdicchio wine is made by using bitter grapes, while the passito wine is made by using more mature grapes.
The distillery
The distillery was founded in 1994 and they are using their own grape skins and not the residues remaining after production of the wines. The phases of the production of grappa are:
dilution with demineralised water
refrigeration
filtration at -5°C
The distillery is producing Grappa di Lacrima and Grappa di Vedicchio.
The olive oil mill
The temperature of the olives are always kept below 28°C in order to ensure the quality of the olive oil. Harvest of the olives is immediately followed by production of olive oil. During fermentation water will increase the acidity of the olive oil. Olive oil which isn't filtered create a deposit which will start fermenting. In general, the olive oil mills are using 2 separators in order to separate water and the solid stuff from the olive oil, while this mill is using 3 separators in order to remove minuscule particles and to obtain a very pure olive oil. The third separator makes the oil transparent.
This farm has about 1500 olive trees of the following types:
frantoio
raggiolo
leccino
raggia
The olives called raggia is the most precious type of olive and resembles the frantoio.
The olive mill produces extra virgin olive oil with very low acidity and with characteristics like fruitiness and a very nice flavour.