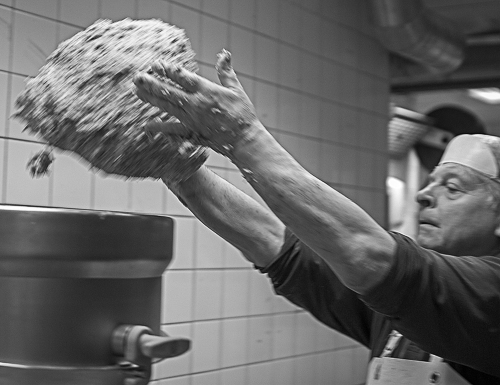 Strøm-Larsen, located at Torshov in Oslo, is a butcher's store with its own sausage makery and is one of a few specialised butcher's stores left in Oslo.
Alf Strøm-Larsen, fourth generation in the family run enterprise, asked us to dress in special, hygienic clothing before showing us around the sausage makery and the meat processing. The store, facing the street, has an abundant selection of delicacies, made by the sausage makers and the cooks, while the customers are served by knowledgeable salespersons.
Since Strøm-Larsen was founded in 1904, high quality products and good service have always characterised the company. Competition from the chain stores has led to that the owners have decided to expand to catering and doing their own wholesale. The present owner, Alf Strøm-Larsen said that the wholesale constituted more than half of the sales. Doing wholesale is also useful because our customers give us ideas to new products and tastes, like our best sellers, creole chili sausage and samba sausage.
A narrow stair led us to the sausage makery where we could watch able hands cutting up and preparing meat for delicacies. Ascending another narrow stair, we arrived at the catering department where tasty and tempting meals were made, ranging from imported meals like tortillas to traditional ones like potato dumplings and liver in cream sauce.
The web page of Strøm-Larsen contains an overview of their great selection of food together with catering and wholesale products. A delicious mix of traditional Norwegian meals together with imported ones.
We ask everyone to support local meat and delicacy stores before they disappear completely. Please don't only compare the prices in the chain store with the delicacy store, but also look at the declaration of contents, ask for advice on how to cook the products, where they are coming from, what do they contain, and so on.