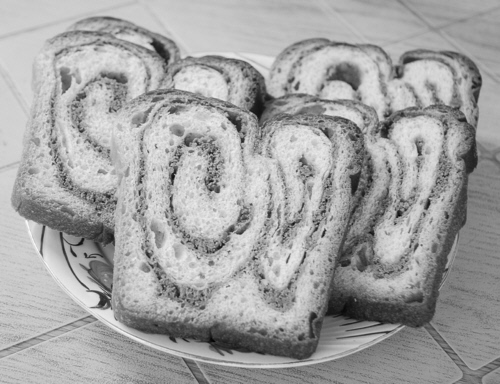 This small bakery is run by Maria Turean and her husband. He was working in a bakery in the village of Sura Mica before the revolution in 1989, but it was closed afterwards. Some time later he opened a small bakery in the same village, consisting of a small shop and a traditional oven. Since Romania joined the EU, he had to close down the old, traditional oven and install a new one because of EU regulations.
Arriving early in the morning, we could hear somebody hitting something. After having entered the bakery, it was seen to be caused by two men who were hitting big, round and freshly baked breads with sticks. In fact, this seems to be a holdover from the Transylvanian way of making bread where the top of the breads are baked till the crust has burnt, and getting rid of it by hitting it repeatedly with sticks.
At the same time, other bakers started making cozonac, actually a sweet bread whose dough consists of flour, eggs, milk, butter, sugar and salt. They started by placing some dough on a workbench and making it flat by means of a rolling pin. Then, they covered the dough with a layer of their own nutty mixture before rolling the dough around itself until it formed a long cylinder. Since it was so long, two bakers had to lift the dough into a metal trough. After leavening, the cakes were baked and ready for sale. Actually, this way of making the cozonac is a continuation of how the Saxons in Transylvania used to make it.
The owners kindly gave us a cozonac, a tasty cake which is very popular among Romanians for all sorts of celebrations.