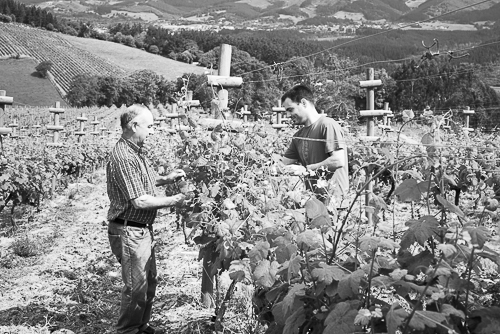 We met José Txabarri after having ascended a steep road from the Casa de Juntas de Avellaneda the most iconic building in Encartaciones, originally an Assembly Hall,the seat of the chartered political government for centuries, now transformed into a museum. Having crossed a big room in a large brick building full of machines, we followed Mr Txabarri to his reception room where all his wines were displayed and customers could savor the taste of his wines together with an accompanying meal.
Originally, he worked at a paper factory and he started growing vines as a hobby in 1990 and his wife started the winery in 1995. All the time, he has been growing vines like Hondarrabi-zuri, Petit courbu or Xarratia or Zuri Zerratu, Petit manseng or Izkiriot Ttipi and gros manseng or Izkiriot Haundi in order to make txakoli wine, a very dry wine, usually white, acid and low alcohol content.
This winery has won many prizes, the most recent being the Bacchus de Plata 2015 and they produce the following wines:
Txabarri White Extra

Txabarri White

Txabarri Red

Txabarri Rose
After having tasted some of the wines,we joined Mr Txabarri in his car, in which we drove up to a vineyard where we also met his son Iker. As a demonstration, they showed us how they removed superfluous leaves such that lots of sunlight could reach the grapes. All the vines were growing very tidily, being supported by 8 wires in two rows, 40 cm apart with a maximum height of the vines amounting to 2.5 meters. Just above the vineyard, there was a grove of eucalyptus and Mr Txabarri told us that the vineyard we were watching had recently replaced another grove of eucalyptus. In fact. the Txabarri family sells a lot of txakoli and they want to expand further. Coming back in some years, maybe there won't be any eucalyptus trees left in this area.
Cultivation of the vines is not organic, but they try to use as little pesticides as possible. However, winds from the sea pass the vineyards, bringing humid air and causing mildew. Anyway, they're trying to work with nature by letting bats, which live above the reception room, go hunting moths, which are eating the vines.
For those who know Spanish, the Facebook profile of this company can be found here.