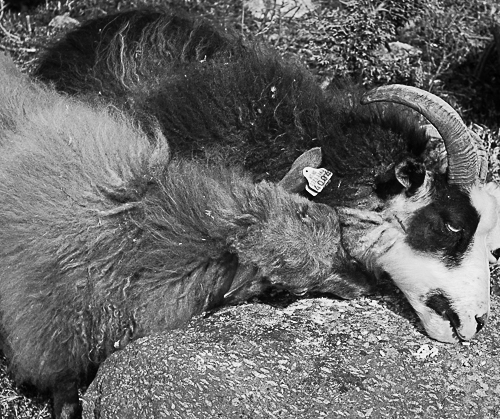 I went to the island commune called Hvasser, which is located near the town Tonsberg, on Saturday in order to meet Mr. Terje Bjerga who works as a part-time wild sheep farmer in cooperation with Mr Erik Asmyhr. Just a few minutes drive from the house of the Bjerga family, we arrived at a large meadow with a flock of sheep. We climbed the fence and approached the sheep carefully.
Fortunately, the wild sheep were used to people and with the aid of Terje, it was quite easy to approach them, which proved to be very different from the white woolen "balls" most of us think of when we hear the word sheep. All the ewes have horns and the wool look like the fur of an Old English Sheepdog. Instead of baaing like any normal sheep, it sounds like they are belching all the time.
Terje willingly tried to tempt the sheep to walk down to the sea in order to let me have a nice background. Even though I and the daughter of Terje walked slowly behind the sheep in order to avoid scaring them, one ewe suddenly changed her mind. Then, the whole bunch followed suit. The consolation prize was that I got to photograph the rest of the sheep running. Notice the photo of the running sheep where one of the ewes has all her legs in the air. Obviously, not only galloping horses are doing this. Terje also mentioned that when the sheep return from the islands, they are in so good shape and so giddy that they easily jump across fences with a height of 1 metre.
The sheep, which originate from an old Norwegian race descends from sheep from Hovin farm in the county of Telemark and their chief characteristics are that they are small, hardy and undemanding. They are outside all year in all kinds of weather, they bear lambs unaided, but they are dependent on eating fodder from October to April. The ewes bear lambs in March-April and they are freighted by boat to various islands in the vicinity of Hvasser in June where they are staying until October. Then, they are freighted back ashore where a certain number of lambs are slaughtered. If you are interested in buying meat from Færder Får, you can make a subscription. For further information, please have a look at their web site referenced above.
I visited Færder Får in the end of May, but the 7 rams had already been freighted to an island where they are staying until October. Terje told me that they are fighting almost continuously, but hopefully without causing harm to each other.
The first area I visited had only 16 ewes with at least one lamb each, while an area called Moutmarka in the municipality of Tjoeme where we went afterwards about 200 ewes with lambs were staying. Unfortunately, foxes kill some of the lambs and we both saw and heard a ewe which probably had lost her lamb. The best part of my visit to Moutmarka was when Terje poured fodder on a stone and the sheep almost fought over eating it. As the photos show, this must have been a real treat.
Before the sheep are brought to the islands, they have to be sheared. This is really understandable since some of them looked more like wandering woolen balls than sheep. The wool is used to make clothes, among other things. After having been sheared, a man with two sheep-dogs arrive in order to collect the sheep and bring them down to the sea where a boat is waiting for them in order to freight them to various islands in the vicinity of Hvasser.
The sheep keep the vegetation down and contribute to keep the cultural landscape and to let rare flowers survive. Færder Får has cleared about 20 hectares at Moutmarka where the sheep can roam freely. You are welcome to visit Moutmarka if you are thereabouts, but remember to keep your dog on a leash.