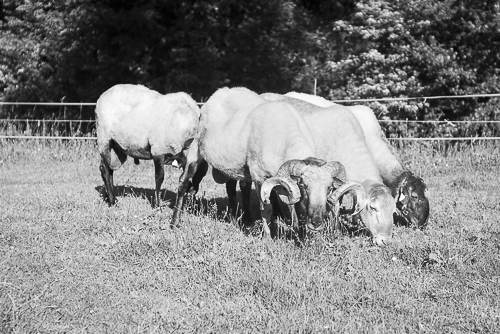 While we were visiting small-scale producers in the area of Idiazabal, we stayed two nights at the Agrotourism Ondarre on the outskirts of the town of Segura.
Both the grandfather and the father of Eneko Goiburu, the present owner of the farm and inn, had worked as shepherds all year, spending summers in primitive mountain huts without any facilities apart from running water. Nowadays, Eneko carries on the farm and makes cheeses as they did, but he also runs an inn, which is naturally most busy in summer, in the farmhouse. As a memory of his ancestors, there is a small ethnographic museum next to the inn where we could have a look at various tools for farming, making cheese, handling wool and turning it into clothes, etc
In order to attend to the inn properly, the sheep graze on pastures near the farm, instead of staying in the mountains in summer as was done by by his ancestors. Besides, a group of four rams were grazing on a separate pasture next to the farmhouse.

The sheep are milked daily and sheep's cheese is still being made manually as it has been for ages. The finished cheeses are Denomination of Origin-certified Idiazabal cheese.
This summer, Eneko and his parents, Félix and Maria Carmen, have been invited to the 2016 Smithsonian Folklife Festival in Washington DC, USA, where they will demonstrate how to make and smoke cheese, besides carding wool, spinning, knitting, and more.
In order to show us how cheeses are smoked, a way of flavouring and preserving cheese, Eneko put some firewood in a big metal bucket and lit a fire. Then, he put nettles on top to produce as much smoke as possible, Next, he put the bucket in a chamber and locked the door. Above the chamber, there was a small room with shelves where the smoke would enter. Having put in some cheeses in advance, he closed the door to the cheeses and let them stay inside for a few hours. Before smoking, the cheeses are whitish, while they have a warm yellow hue afterwards.