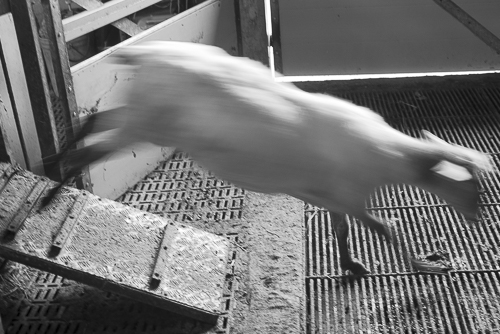 After having left the Basazabal farm, we went to another sheep farm a short drive away. This farm is being run by 3 brothers, Jesús, Juanjo and Jose Luis, while Mª Angeles is also helping them.
The farm has 1200 sheep and 3 hired workers were milking the sheep by means of machines during our visit. 700 of the sheep had been brought by car to the Urbia mountain range in the beginning of May and the rest would be brought up to the same place a few days after our visit.
After having watched some of the sheep being milked by machines, Ms Angeles invited us to join her on a car trip to the cabin her family is renting from the Provincial Government of Gipuzkoa. On our way up, we saw several mortared stone houses, besides horses and cows which were free to walk wherever they wanted.
Having arrived at the house, which the Aranburu family is renting, Ms Angeles with help from my guide cooked a delicious meal, consisting of red beans with chorizo and local green peppers «guindillas de Ibarra», lamb chops, a junket called «cuajada» made with fresh ewe's milk and finished by a cup of coffee.
On our return trip, Mª Angeles drove us to a path, which led to a beautiful beechwood where sunrays could only reach the ground through small holes in the canopy. Having passed the forest, we arrived at a natural tunnel called «Tunel de San Adrian»  named after St Adrian's chapel inside the tunnel. Actually, we were hiking a small part of the St James Way and the Royal Way used by Spanish royalty in times past.
When we arrived at a road, Mª Angeles arrived shortly afterwards and she kindly drove us to the dairy where we met the rest of her family. This dairy is much bigger than the others we visited. The Aranburu family like to show how they make cheese to visitors. That is why they have set aside a big room where the process from milk to cheese is shown and where the prizes they have won are exposed. Besides, they are constructing a farm behind the dairy in order to show all the process to visitors, from milking the sheep to cheesemaking.