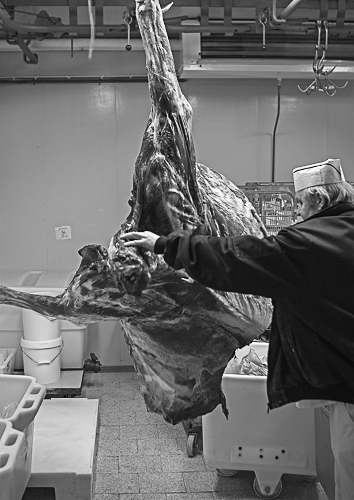 Aurskog kjøtt (kjøtt means meat in English) is a butcher's store with its own sausage makery, which has been producing high quality meat products since the 1960s.
Elk hunters from near and far also appreciate the competence the workers at Aurskog kjøtt have acquired, regarding treatment of whole carcasses of elk. Able workers cut up and prepare the meat according to the wishes of the hunters.
When we arrived at Aurskog, the workers were just receiving another elk killed by a car. An agreement with the Norwegian Food Safety Authority entails that elks which are injured or killed by cars, can be used for human consumption. Thus, after accidents between elks and cars, the carcasses are transported to Aurskog kjøtt, where after having been controlled by a vet, they will be turned into a diverse range of meat products. Before, carcasses of elks killed by cars were transported to the kitchens of local homes for the elderly, but the kitchens have been closed down due to modernizing and rationalizing, letting the residents eat ready-to-eat meals prepared in big kitchens instead.
A prime exampe of elk meat at Aurskog kjøtt is their award-winning elk sausage consisting of at least 70% elk meat together with blubber and spices. In addition to making sausages, products like steaks, forcemeat, meat farce, cold cuts and beefburgers are made and sold in the shop residing in the same building.
At Christmas and Easter, it is busy at Aurskog kjøtt since the locals are buying products like minced meat and lean pork, smoke-cured ham, brawn and hot dogs.
Aurskog kjøtt is also producing a hot dog, called Bratli hot dog, which has its own Facebook support group dedicated to those who have eaten at least 10 kg of Bratli hot dog.
Another specialty is their Mangenskog sausage which was created in 2007 according to an article in Norwegian issued by the local rambling club. In it we can read that someone from the rambling club asked the people manning the stand of Auskog meat on "the Day of the Elk" for a special sausage for the Mangen forest written as Mangenskog in Norwegian.
We decided to visit Aurskog kjøtt in order to draw attention to small-scale meat stores and sausage makers. There are only a few independent sausage makers left in the counties of Oslo and Akershus, and if we as co-producers* don't support them, they will disappear.
We recommend going to the sausage makers in Aurskog located about 50 km from Oslo where you can buy unique meat and sausage products.
*  Slow Food members are co-producers because they support small-scale producers.