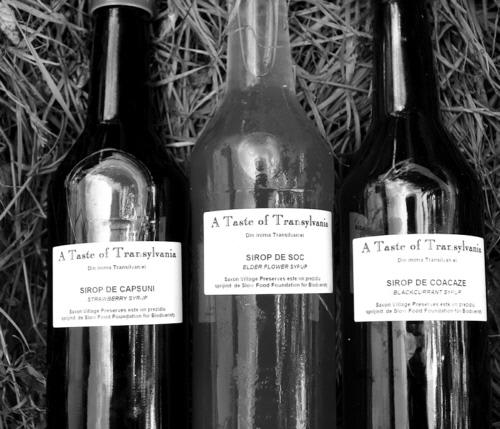 We went for a visit to a young farmer called Sorin Neculae who is cultivating blackcurrants and strawberries. Coming from Brasov and crossing the Transylvanian countryside, we arrived at the blackcurrant field of Sorin.  Using no herbicides or pesticides, it was easy to see that the leaves of the blackcurrant shrubs had lots of spots, probably due to some type of disease. Although summers in Romania are often quite dry, he used no artificial irrigation. Moreover, the rows between the blackcurrant shrubs were full of weeds which Sorin removed occasionally.
About two weeks after our visit in late June, Sorin and some workers would pick all the blackcurrants by hand, then bring them to his house in a nearby village called Bonesti where they would be cold-pressed, pasteurised, the juice would be bottled and the bottles would be labelled. 20 grams of sugar is added for every 100 ml of juice, while no preservatives are used.
We arrived too early to see how they were making juice from blackcurrants and strawberries, but we could at least see a small part of what was needed for making elderflower juice. Employing local people for picking elder flowers, he puts a large amount in a tank, pours cold water which has been boiled into the same tank, keeping the mixture at 20°C for 72 hours and stirring it occasionally. Then, the liquid is filtered and bottled, labelled and stored at 4°C in order to avoid fermentation resulting in a sparkling wine.
His products are sold locally in Romania.