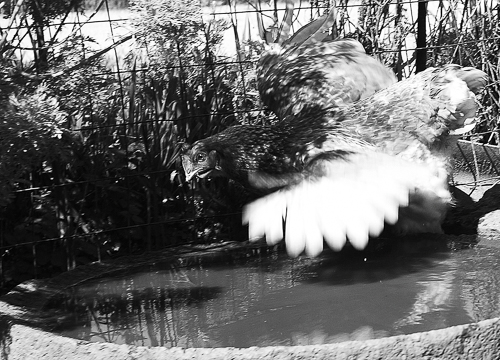 The farm is located at the extreme north west corner of Sardinia, between Porto Torres and Stintino. A wind-swept territory with a low-lying vegetation and almost completely covered with grassland and Mediterranean steppe. Only in depressions, where rainwater is collected, can the Mediterranean maquis be seen.
Arriving at the farm at noon, we could see a tiny collection of buildings consisting of about 10 houses almost forming a semicircle, below a clear, blue sky, surrounded by the salty tang of the sea and fragrances of the Mediterranean maquis.
Being in an arid area where it scarcely rains, meaning that it isn't possible to use fertilizers because the long, dry periods and high temperatures will lead to that soil which has been fertilized will dry out completely. This means that only organic cultivation of the soil can be applied in this area.
Mario Stacca, the owner of the farm, has decided to carry on the work of his ancestors who have been cultivating this land and raising cows for the last 150 years. The area of the farm has been extended several times until it now stretches to 80 hectares, but they are not adjacent meaning that a tractor is necessary for transport between the plots of land.
Some of the plots of land are used for cultivation of cereals (wheat, barley and oats), which are partly used for feeding the cattle and partly being sold on the market.
In order to prepare soil to house the seeds and for providing a base on which the cereals can grow, crop rotation is used, consisting of alternating the cultures which are being cultivated (every second or third year). After having planted a field with legumes and letting them grow for about 2 years, the field is ploughed, making the legumes decompose inside the soil while at the same time enriching it with nutrients like nitrogen. After a specific time, cereals are planted in the same place.
Mario is also raising Charolaise cows for meat production. The cows are mainly eating grass, but they are also allowed to enter fields planted with cereals which have obtained a certain height. Naturally, the cows will also fertilize the soil by means of their manure.
This young entrepreneur also wants to integrate agriculture and farm holidays with clean energy production by installing solar panels, making the farm self-sufficient with energy. He also wants to introduce electric vehicles due to the degradation of the land caused by cars driving near to his farm in summer.