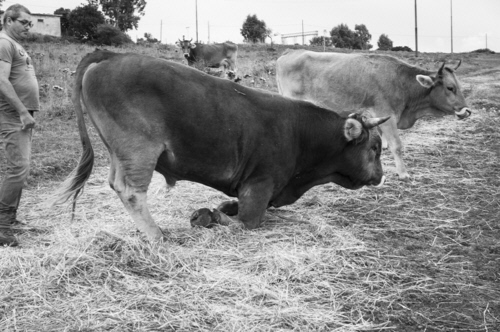 Casa Atza is located in the village of Bauladu about 10 kilometres from Oristano. The family, who is owning it, received us warmly and after the introductions we decided to go to an enclosure within which they were raising a group of Sardinian cattle just a short drive from the guest house. Upon our arrival, Mr. Jose Atza opened the gate and let us enter the enclosure where there were some Sardinian cows, a calf which was suckling, and a docile bull. Jose and his wife told us that some of the animals are slaughtered, while some of them are used as dairy cows, whose milk the wife uses to make a typical cheese called Casizolu for this area.
Having returned to the guest house, Ms. Atza described the complex procedure for extracting must from cactus pears, a dense and dark syrup with a sweet and spicy taste and intense fragrance. The must, which is obtained by prolonged cooking (about 9 hours) of the pulp and juice of cactus pears, is mainly used for making various types of sweets.
She also told us that the must of cactus pears has replaced the must of grapes whose recipe according to some elderly persons has been known for at least 100 years.
The cactus pears are collected in September at a time when they are mature, then they are peeled, squashed and cooked such that the seeds are released from the pulp, while the juice is extracted by means of gravity.
Having extracted both the pulp and the juice, the second and very long cooking at low heat will take place. During the cooking, ingredients like dried orange peel and wild fennel are added. In fact, she uses oranges which are collected from their own citrus grove which is about 140 years old. The oranges have a very rough and uneven skin, but they are very juicy and sweet.
When the must has obtained a certain density, the cooking is stopped and the must is left to cool off before being bottled and conserved in a cool and dark place where it has a shelf life of 2 to 5 years. Each September the women of Bauladu collect cactus pears in order to make must for another year.
We really appreciated the generosity of Ms. Atza who had made typical and very tasty pastries based on the must of cactus pears.
She also prepares other Sardinian sweets with nice names like ziddinas and pardule besides sweets based on almonds for visitors at the guest house. They also offer meat from their own cattle, extra virgin olive oil and the cheese called casizolu.
Casa Atza was founded in 1993, it is known for the hospitality of their hosts, it is surrounded by beautiful scenery, the guests are meant to feel as part of the family, and our stay was indeed pleasant.