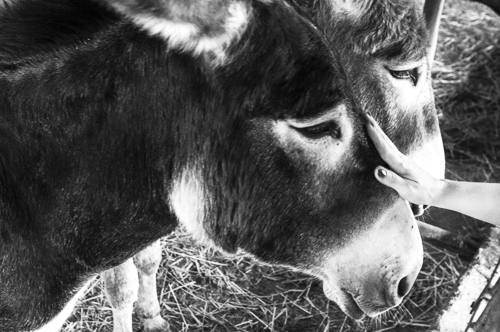 We arrived at Massama having passed an antique church and going towards Siamaggiore, we came to the farm and guest house "il Giglio".
We were met by Antonella Anna Maria Orrù who led us to a rustic and exquisite hall, actually a 19th century country house, entirely and finely restored. The wooden ceiling was quite high, while the walls were made of stones and concrete. Wide and tall windows let daylight enter the building and there were decorative baskets containing carved pumpkins on the tables.
After having eaten a delicious lunch consisting of traditional Sardinian courses prepared by Antonella and her employees, she followed us to her organic citrus grove where she was growing mandarins and oranges called Washington Navel whose fruit trees had recently been pruned due to the presence of parasites. Actually, Antonella started organic farming of fruit trees, olive trees and citrus trees in 2010, and she didn't hide the fact that she finds it very difficult because of parasites and parasitic diseases which she can't control by means of insecticides or herbicides, neither can she use artificial fertilisers. Obviously, growing these trees organically leads to a lower yield, but the quality and the intensity of the tastes of the organic products are superior to the conventionally grown ones. The organic cultivation is controlled yearly by an external institution, samples are taken for analysis and a certificate is issued when everything is found to be okay.
After our visit to the citrus grove, we followed Antonella to the farm where they are raising animals, but we stopped along the way in order to have a look at another fruit grove where they were cultivating pomegranates, apples, pears, peaches, figs, and so on. A part of the fruits are turned into jams which are served at the guest house, while most of them are sold to shops which are selling organic produce in Oristano.
In addition to jams, this farm also produces cold cuts and pickled vegetables which are used in the restaurant of the guest house together with olive oil, vegetables and meat prepared using tried and true techniques.
When we arrived at the farm, we could see horses, donkeys, cows and surprisingly an albino donkey. Antonella told us that her father Giglio, whose name has been used as a name for the farm, initially bought some dairy cows and gradually turned to cows for meat production.
Having visited the farm, we thanked Antonella for her hospitality with whom we had passed a pleasant afternoon.
As can be seen from their facebook page, this farm and guest house arrange lots of activities, including receiving children for learning about farms, preparation of many types of typical Sardinian products, workshops and last, but not least an encounter between man and bassett hounds.
A recipe using, among other things oranges to make a cranberry pound cake, can be found here.