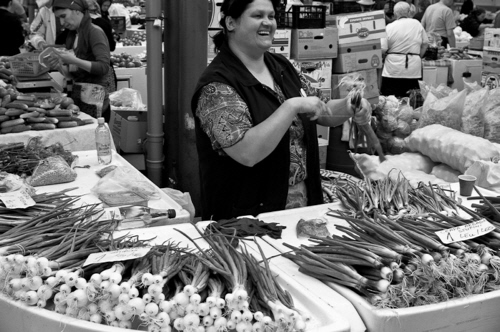 Since we had to give a ride to Mrs Istrate, who was selling her cheeses at a market called Dacia centrally located in Brasov, before going to her farm in Fundata, we had to pass lots of Rom people hawking their wares, some of them selling flowers while others were selling strawberries, blueberries, bilberries and blackberries they had picked in forests outside Brasov.
Even before we entered the indoor market, lots of people were going in the opposite direction and inside, it was really crowded, vendors selling a wide selection of vegetables were busy serving their customers. Having passed the vegetable vendors, we entered another section of the market where the cheese vendors were located. There, my guide found Mrs Istrate more or less at once.
Afterwards, I was told that about 450 small-scale producers sell their products, like fruits, vegetables, meat, cheese and flowers, at this market. It's very popular among the citizens of Brasov and the products are priced lower than at other markets in the town.