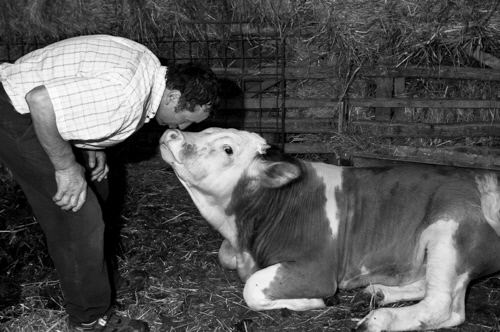 We went to another Saxon village called Cincşor. As usual, it had a fortified church, but we were looking for a farm just outside the village. After just a few minutes drive, we arrived at a farm where we were met by Mr Vasile Tafta, a friendly man in his sixties who had come from the south of Romania in the 70s and stayed ever since.
After having entered their dairy located next to the farm, he poured some rennet into the cheese in order to separate the cheese mass from the whey. While waiting, he served us their own cheese together with a glass of pálinka, a homemade spirit which almost everyone in the countryside is making by themselves. Afterwards, we went back to the dairy, watching him using a utensil like a smoothing plane in order to transfer the cheese mass layer by layer from one container to another one. After having finished the transfer, the procedure was the same as usual. Tying a cloth around the cheese mass, compress it, and hang up the cheese mass for drying.
Afterwards, he showed us around the farm, letting us see the calves which were staying together inside, then we went to visit a young ox. He jumped across the fence and started stroking the ox who was alone inside. If I'm not wrong, it seemed like he really knew how to treat animals well.
Walking around the courtyard on the farm, suddenly some pigs and a dog arrived in the door opening of the barn, maybe they woke up from their afternoon rest.
Since the cows and sheep were out grazing, we couldn't leave without having a look at them. One of Mr Tafta's sons agreed to follow us and after having ascended a steep hill and walked for some time, we found the cows grazing on the top of a hill having a lovely view to the surrounding countryside. Then, we went on in order to see their sheep, and passing two guarding dogs, I really appreciated that we had a guide who knew them. Walking on rolling meadows and passing deciduous trees here and there, we arrived at a flock of sheep which was guarded by a shepherd. Fortunately, our guide showed us another way back such that we could see even more of this pretty part of Romania.
The next day, we went to the home of the Tafta family where Mr Tafta's wife, Maria, had a small refrigerated room for storing their cheeses. Free tasting of the cheeses together with another glass of pálinka was included.