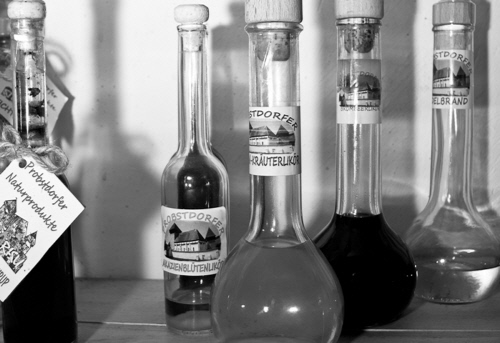 Photo gallery of the visit in Stejarisu
We visited a Romanian family in a town called Agnita in order to have a look at the cakes they were making. We were met by Viorel whose mother and wife are making cakes using recipes which have been used by the Saxons in Romania for centuries. Unfortunately, no baking was taking place during our visit, but we were shown three of their cakes, all of which tasted delicious.
Although Viorel's parents are Romanian, Viorel convinced his mother to start baking Saxon cakes since he had always been interested in healthy food. During our visit, we were offered three types of Saxon cakes. When I started photographing the cakes, Viorel brought a doll showing a woman dressed in a typical Saxon dress. The dress was a copy of a dress Saxon women used during processions when the Saxons were in the majority in Agnita.
While his mother and wife make the cakes, Viorel brings the cakes to various outdoor markets organized by Slow Food, always trying to make the Saxon cakes known in Romania. He also wanted to buy a house in a village called Stejarisu and he joined us for a car ride there in order to show us a very enterprising small-scale food producer.
Having arrived in Stejarisu, another Saxon village, he led us to a large building where we would be served lunch. The building housed a company called Probstdorfer Naturprodukte, founded by an Austrian woman, Mrs Schöfnagel, selling honey, several types of jam, liquor and herbs, serving meals for visitors and providing accommodation. The locals were working in the kitchen, the garden, the workshop, etc. In fact, Mrs Schöfnagel has been tirelessly helping the Romanians since the 1970s.
Having assisted in two reconstruction projects in 2005 and 2006 after major floods, she was one of the founders of a foundation called Au-Ro or Austria pro Romania in 2007. It seems like Au-Ro has been replaced by the Augustinian Humanitarian Foundation.
Stejarisu has about 800 inhabitants and when she first started helping them, the buildings were run-down and most of the locals were unemployed living on social assistance. Now, the village has a kindergarten, a school, three small shops, a milk collection centre, a post office and a village inn.
The organization aims to provide education and vocational training in addition to offering work for everyone. In this way, the persons managing Au-Ro think that the locals are able to solve their own social problems and getting out of poverty.
After having eaten a delicious lunch, we were free to walk around on their property where lots of herbs were being cultivated, chickens were walking around freely, some local women were tending the garden, while the local men were doing some kind of practical work.
Last but not least, the foundation accepts volunteers who want to work in Romania.