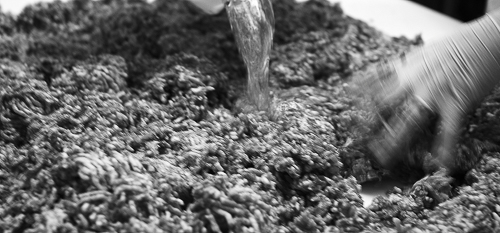 Co.P.AV, a cooperative of food producers, is selling not only fresh meat, but also wines with controlled origin, extra virgin olive oil, eggs, apples, legumes, fresh and seasoned cheeses from the Marches, bread, traditional sweets, local cold cuts, sausages and bacon made at the shop, The meat has to be tender, palatable, tasty, and first of all secure.
The following types of meat are sold at the shop:
The butchery is located in Senegallia, about 15 km distant, and all the animals have been raised at local farms.
Upon our arrival, we first arrived at the shop, then were invited to enter the workshop inside the shop. We were shown how sausages are made by the owner Maurizio together with his employees Moris and Nicolò, using pork meat together with salt, pepper, garlic and water. All of them being dexterous, the work seemed quite easy, but had probably required years of practice.  Moreover, we were shown preparation of deboned guinea-fowl with fennel, rabbit in pork roast and stuffed pigeon.
The making of sausages consist of:
cut the pork meat into small pieces.
apply salt, pepper and water with garlic to the meat.
put the meat into a meat grinder.
mix the ground meat with salt, pepper and water.
rinse a bowel in water.
fill a tube with the ground, salted, peppered and watered meat.
place the tube horizontally, assemble a lid, with a plastic cylinder, at the end of the tube.
attach the bowel to the plastic cylinder.
push the ground meat through the plastic cylinder and into the bowel.
cut the bowel near the plastic cylinder when the bowel is full.
tie knots at regular intervals around the bowel.