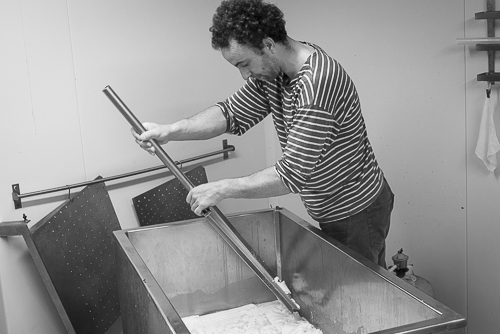 We arrived at the Garoa farmhouse dairy in the village of Zerain where we were met by Jon Harreguy. Inside, he was turning sheep's milk into cheese. In fact, the milk had already been turned into curd and he was about to divide it into pieces by using an instrument called a harp, really a rectangular metal shape with vertical metal threads and a handle. Passing the harp through the curd, it is divided into small pieces such that the solid parts, the cheese mass, can be separated from the liquid parts, the whey .Afterwards, he put two vertical and perforated plates in the vessel containing the curd, letting one of them be stationary and pressing the other one against the former. In this way, the cheese mass would remain, while most of the whey passed through the holes in the perforated plates.
Having finished this task, he used a knife to cut the cheese mass into cubes whose sides had a length of about 12 cm. Beforehand, he had put porous cloths into cylindrical containers, into which he put the cube-shaped cheeses. Next, he put a small label on the top of each cheese mass in order to ensure traceability. Then, he wrapped the cloth around the cheese mass and put a lid on it. Finally, when all the cheese mass had been put into the cylindrical shapes, he put them in a device where they were subjected to constant pressure to press out more whey.
Shortly before having finished the cheesemaking, a neighbour of Mr Harreguy arrived because he was raising a few pigs and Mr Harreguy filled up a container with whey as feed for his pigs. Some cheeses were lying in brine in order to get rid of whey and to kill bacteria and we also entered the storeroom where cheeses were maturing. In order to get rid of even more whey, they have to be turned around daily.In addition, mould may easily start growing on the surface of the cheeses such they have to be cleaned occasionally.

Originally, Jon Harreguy and his wife Martina had been renting a farm, but 10 years ago they decided to move to Zerain and buy this farm, starting from scratch and building the farmhouse dairy later. He studied to be a shepherd, while she studied agriculture. From spring to July, a mixture of about 280 Latxa sheep graze on a pasture located near to the Garoa farmhouse dairy. In fact, this breed together with the Carranzana breed are the only ones, which are accepted for the Idiazabal cheese label.
The sheep are milked by machines at 8 in the morning and Mr Harreguy makes cheese daily. After 10 July, he brings the sheep to Igaratza, in the Aralar mountain range by car. He pays 250 euros per year for staying in a mountain hut with all modern amenities and 1 euro per sheep per year. He stays with the sheep for 5 months, that is until November when he walks the sheep back to the farm where they stay in a shelter in winter. In school holidays, his wife and children join him.
Before we left the farmhouse dairy, Mr Harreguy let us taste some of his cheeses, all of them delicious and tasty.
Afterwards, we went a short distance to a pasture where his sheep were grazing on a hill, which was located next to people's houses.