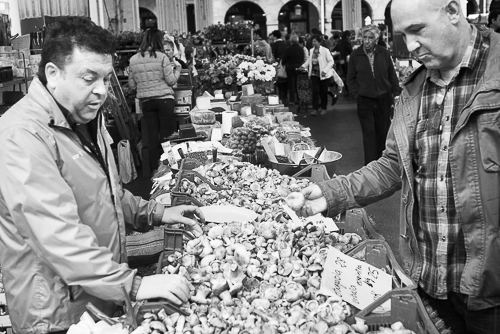 We went to the weekly outdoor market in Ordizia, a market which has been arranged for hundreds of years. It started around the eleventh-twelfth century and since the fire of the town in 1512, when Queen Juana «the mad» of Castilla conceded the permission for a weekly market every Wednesday, it hasn't been interrupted for more than 500 years. There, we should meet Xavier Martinez, the owner of the local Restaurante Martinez, a restaurant which was founded in 1890 At the beginning, it was a coaching inn and it was called «Fonda Urdaneta de Martinez», the second generation expanded the business to a wine warehouse and called it «Fonda de Martínez». The third generation turned it into the bar and restaurant it is today, while the fourth generation has renovated the place completely and has called it «Restaurante Martínez»
In addition to being the owner of and a cook at «Restaurant Martinez», Xavier has a long career regarding food, like working as a teacher in the cooking school of San Sebastián, as a cook in various restaurants, some of them with several Michelin Stars, in Spain as well as abroad. Besides, he has worked as a food ambassador of Basque cuisine for the Ministry of Trade and Tourism of the Basque Government,
Having met him outside his restaurant and had a cup of coffee inside, we walked straight to the outdoor market less than 2 minutes away. There, under the roof a huge structure supported by thick brick columns, a lively market was taking place.
Mainly local producers were offering their wares, like mushrooms, bread, cakes, vegetables, sweets, herbs, snails, meat and seafood, to passersby. Being a local and knowing the market well, Xavier obviously knew what he wanted and after some time had got it. All the local producers preferred to stay under the same structure, apart from a woman who preferred to stay in an arcade of the town hall. She and her family have been selling cheese at that place for four generations and they are granted the sole rights to stay there.
When we met Xavier in the morning, the bar was nearly empty, while when we returned it was almost completely full. Since we were invited to watch Xavier cooking, we entered the kitchen instead.There, he cooked scrambled eggs with mushrooms using virgin olive oil with garlic. Next, he fried shrimps in virgin olive oil and he mixed them with artichokes and fried leeks. Finally, he invited us to eat the delicious meal he had prepared in his restaurant.
In addition to the weekly market, there is a cooking demonstration of local and seasonal products once a month. Other events include Shepherd's Day at Easter, marking the start of the Idiazabal cheese season. A Basque Festival takes place in September and there is an extraordinary Christmas market.
Going to an outdoor market where local producers sell their products is an excellent way of getting to know them and their products and paying them directly. This really counteracts the alienation most people feel from where their food comes from, who made it and how it was made.