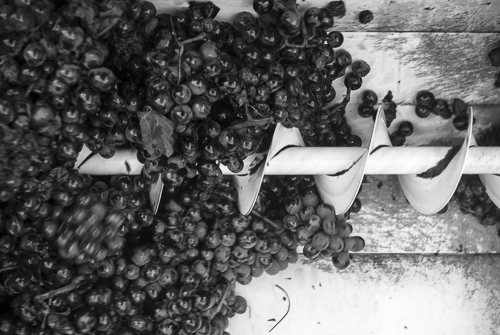 I stayed at the guesthouse "Rainè" in autumn, a rather hectic period for the farmer Claudio Giachino and his family since the harvest, including hazel nuts from the hazel trees and grapes from the vines, takes place at this time of year.
Late in the evening we could watch Claudio working and processing the grapes after the harvest. The bunches of grapes justly picked can't wait or else they will overheat due to fermentation, meaning that the wine farmer has to work fast. After having emptied the plastic boxes with the bunches of grapes into a container, a horizontal, rotating screw forces them to enter a tube such that they can be pumped into a bigger container. Then, their stems are removed before being compressed in a crusher and then transported to big steel containers for the fermentation.
The speed of the fermentation is decided by Mother Nature: thanks to the yeasts naturally occurring in the grapes, the must starts fermenting, the sugars contained in the pulp of the grapes start being transformed into alcohol, the tannins and the scents of the grape skins give off their characteristics to the must. A slow transformation takes place in the steel containers, while simultaneously characteristic smells starts spreading from the whole winery, smells which are often unknown to passersby.
After having fermented 20-25 days, the must is separated from the marc or pomace, that is the solid parts of grapes, is separated from the liquid parts. Thereafter, the must is transferred to a clean steel container where it is allowed to rest such that any solid parts will settle at the base of the tank. Besides, the marc is compressed in order to recover any must still residing within it. Finally, the remaining solid parts are transported to a distillery for making grappa.
This wine farm is producing the following types of wine:
Dolcetto d'Alba
Dolcetto d'Alba Rainè
Nebbiolo d'Alba
In addition to cultivating vines, they are also growing hazel trees for their hazel nuts whose harvest is totally mechanized. The guest house located next to the farm has 5 apartments for rent, breakfast is included in the price, while dinner has to be paid separately.
Claudio told me that before he met his wife Elena, he worked in a factory. Since her parents were managing this wine farm, he decided to leave the factory and, instead, start working as a full-time farmer. He started wine-making in 2001.