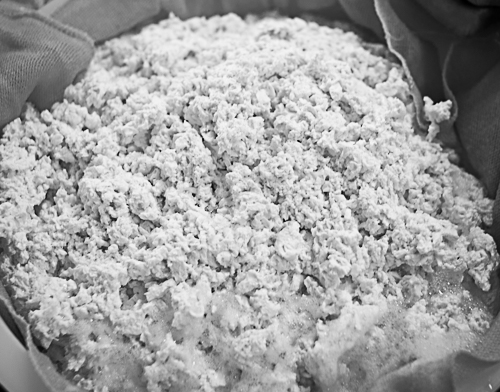 The Holen farmhouse dairy is located in the land of the writer and Nobel laureate Bjørnstjerne Bjørnson. You'll find it by going north from Lillehammer towards Segalstad bru (bru means bridge) where you turn left and follow the road called 255 for about one and a half kilometer. Then, you turn left again and after about 500 metres, you'll arrive at a beautifully located farm and farmhouse dairy.
Inger Elisabeth Holen received us in the farm shop, which is located in the same building as the dairy. The milk for the dairy is taken from the cows at the farm and it is not pasteurised leading to tasty dairy products.
She started making dairy products after having taken a course with the indefatigable Pascale Baudonnel in 2003, a French-woman who has taught many Norwegian farmers how to make dairy products. For instance, we visited Eiker farmhouse dairy in autumn 2008, whose owners also had done a course with Pascale.
Holen farmhouse dairy produces among other products, the Norwegian pultost, which is a soft, sharp cheese, which is a presidium. The consistency is grainy and the taste is mild. However, you can obtain a richer flavour by letting the cheese mature just by storing it in a cool place. The cheese is made from skimmed milk which has been mixed with soured sweet milk. A more detailed description on how pultost is made can be found at our first visit to a pultost producer: presidium cheese. All the cheese has to be matured and the worker has to decide when to stop the maturing by judging the colour, flavour and consistency. The maturing is stopped by adding salt, while caraway is added to make the cheese more tasty.