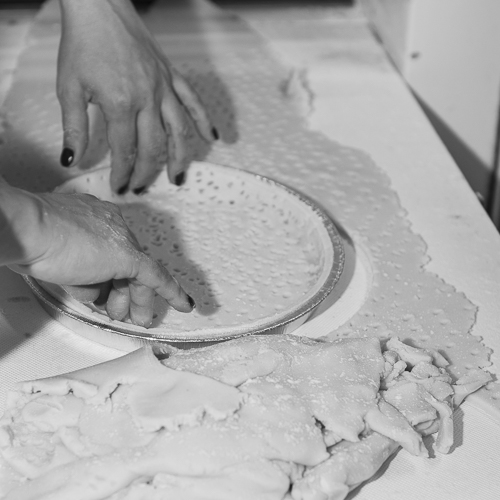 A short distance from the port of the village of Porto Ercole, a family-owned bakery and confectionery with the name of «il forno del porto» meaning «the oven of the port» is located. Inside, artisans are turning ingredients like flour, water, salt and baker's yeast into various types of bread, pizzza and rolls. Likewise, ingredients like eggs, butter, sugar, flour of both grain and chestnut, various types of Mediterranean herbs and dried fruits are used to make sweets with names like fiorellini, ciambelle, tozzetti, chestnut cake, etc. As regards Italian sweets, they have different names in differing parts of the country. Thus, fiorellini, which look like small cookies  may be made in more or less the same way, in, say, Puglia, but they may have a different name.
Arriving about 5 in the morning, the only other living beings we saw on our way from Orbetello to Porto Ercole were some roe deer. Although it was quite cold outside, the two bakers, Luigi and Marco, were wearing shorts and T-shirts because of the heat from the bakery ovens. Anyway, they had already been working for several hours, busily making bakery products which would be shown in the adjacent bakery shop ready for being bought by the locals of this village.
Since the Neolithic Revolution, when man started doing selective breeding of cereals bakers have been making bread. Like always upon entering a craft bakery, artisans are turning out bakery products at high speed, seemingly without getting tired, while at the same time being surrounded by the pleasant smell of dough being turned into bread in a nearby oven, while freshly made breads are being cooled on shelves, baskets, etc. Briefly, it's always a pleasure to visit an artisan bakery making the food we could hardly do without.
Upon our arrival, Luigi had prepared various metal plates with pieces of flat, round dough, which were called pizzette. He poked some of them with the tips of his fingers, then he spread a layer of tomato purée on top of them.
On other pieces of rectangular dough, he was poking it with his fingertips, creating evenly spread wells on the surface. Then, he applied a layer of olive oil with a pastry brush. Next, he peeled some potatoes and used a food cutter to cut them in flat pieces, which he distributed evenly on top of the dough. On other ones, he put either pieces of onion or anchovies. While preparing various types of pizza and focaccia he regularly had to put pieces of dough in the oven and extract finished bakery products.
At the same time, Marco was making croissants: first he put some dough in a press, which both compressed the dough and cut it into hexagonal shapes. Next, he laid one of the shapes at a time in a dough roller, which first compressed the dough, then, rolled it around, forming some kind of croissant. When all the bits of dough had been compressed and rolled, Luigi put them in a bakery oven and, when they had been baked, he took them out again, made a cut in each one of them and put some sour cream in each cut.
We also watched Marco mix white flour with semolina, sugar, dark and light malt on a scales , make a whole in the mixture and fill it with olive oil. Next, he poured all of it into a kneading machine into which he also poured water and two pieces of wholewheat dough, one dark and one light. Finally, he turned on the machine in order to make dough, which would be used to make whole wheat bread.
I imagine that whole wheat bread come from northern Europe because it was nearly impossible t find it only a few years ago, while white bread was available everywhere.
Not surprisingly, Marco and Luigi also find it difficult to bake in high humidity. It seems like all artisan bakers just have to try whatever works in such conditions, while they can do it easily when it's dry.
Approaching 7 in the morning, Marco and Luigi were about to finish a night's work, meaning that we left, but we should come back around 10 when Sabina, the wife of Luigi, would be making sweets. In fact, upon our arrival she was making a cake consisting of two layers of dough separated by a layer of sour cream. Next, she applied Nutella on top of the upper layer of dough and spread it evenly across the whole surface. Then, she rolled the layers, ending up with a layer cake, which she called a trunk.
Like the bakers, Sabrina also used the dough roller frequently in order to compress the dough and make it flat. Afterwards, she laid the dough on a bench and put a circular disk on top of it. Next, she led a wheel roller cutter along the stencil, forming circular pieces of dough. Then, using a toothed roller, she made small depressions in the dough. Finally, she put each piece of dough in a round metal shape
Afterward, she mixed ricotta from a local dairy, called Caseificio Sociale Manciano, with eggs, sugar, red wine and chocolate pellets. After having mixed all the ingredients thoroughly, she put the mix on the circular-shaped pieces of dough, using a spatula to spread it evenly across the surface of each one. Actually, it would take one more day to finish this cake, but she let us see the final result, a delicious-looking cake covered by powdered sugar and chocolate powder.
Before we left, Sabina told us that instead of formal education, she has taken some confectionery courses on how to select the most suitable and fresh ingredients, how to combine them and turn them into cakes, pastries and biscuits, how to apply liquids, etc. Anyway, she has mostly learnt by being passionate about her work and by learning on her own.