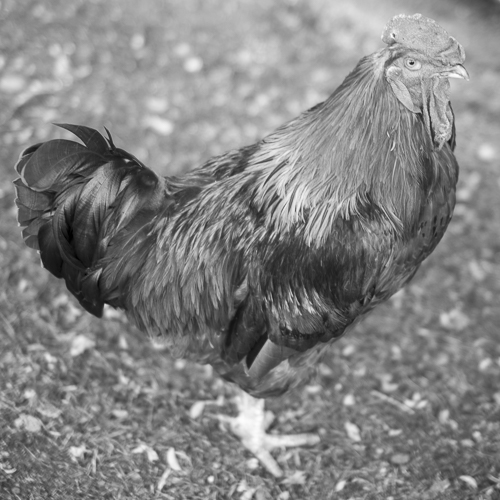 We met the owner, Mr. István Szabó, of Kázmér brewery where he lives with his family. He invited us for tasting his Vienna lager in the garden and I must admit I was pleasantly surprised by its rich taste. I almost never drink lager because it's become a drink, which tastes almost the same everywhere.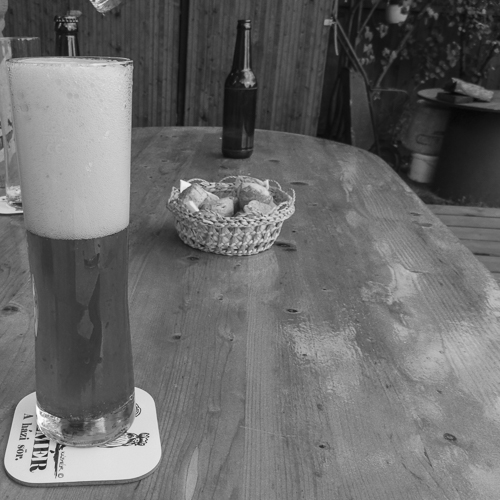 Vienna lager was developed by Anton Dreher in Vienna in the 1830s, combining the crispness of lager with the paler hues of the English ale by adding roasted malt in the mash of lager.
The brewery is named after his rooster Kázmér, which lives in the chicken coop in the garden with one young rooster and many hens. He's the boss of the chicken coop, at least for now.
In addition to Vienna lager, Mr. Szabó also makes Belgian abbey beer, wheat beer and he wants to make American pale ale (APA), a suggestion from one of his sons.
While we were enjoying his beer, he told us about how he ended up with his own brewery. He studied electronics and after graduation, he worked as an electrical engineer. His first job was to work in automation for a local brewery and he was worked with automating both malting and a pastueriser.
He worked with an Austrian company from 1992 to 2004 and it was there that he learnt how to make beer. Next, he worked as a manager being responsible for investments and he has worked as a brewing manager for Heineken in Mircurea Ciuc and Targu Mures.
He worked for 3 years as a director for Heineken and he had to move wherever the company wanted. He quit in the beginning of 2017 and he has been living from his savings ever since. Brewing beer is a hobby for him, but now he's starting to make money from it as well.
He started one and a half years ago and he had to overcome a lot of bureaucracy to get a permit for brewing beer and he will get it soon. Unfortunately, he has to fulfill the same requirements as an industrial brewery and he has to accept inspections of his brewery and pay a lot for it. In addition, he has to pay extra tax for producing drinks with alcohol according to Romanian law.
When he quit his last job, he got a kit for making beer from his colleagues. Thereafter, he bought a 25 litres set for making mash from New Zealand. Not being content with its thermal performance, he has put a layer of thermal insulation around it.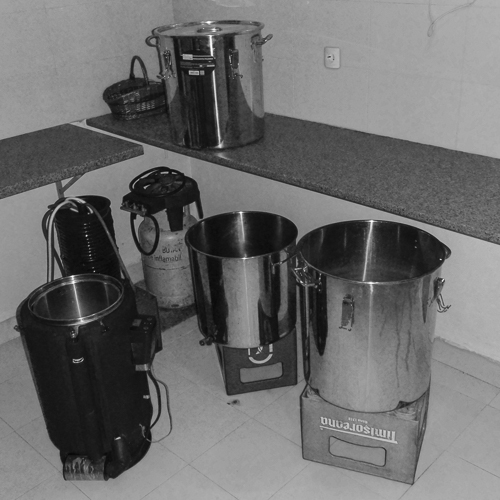 Mr. Szabó buys malt and crushes it manually in a mill, the beer making machine has an inner porous cylinder and an outer tight cylinder. He pours crushed malt in the inner cylinder together with water. He heats it up and after some time, the water has turned into wort. The mash is given to the poultry.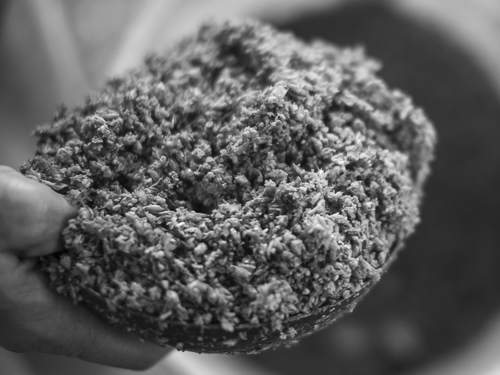 He boils the wort, next he adds hops because they add flavour and kill bacteria. Thereafter, he pours the liquid into a fermentation tank and adds yeast. Then, fermentation is done at a controlled temperature of about 10°C for 1 week. After the main fermentation, the beer is matured for another 2 weeks in stainless steel vessels.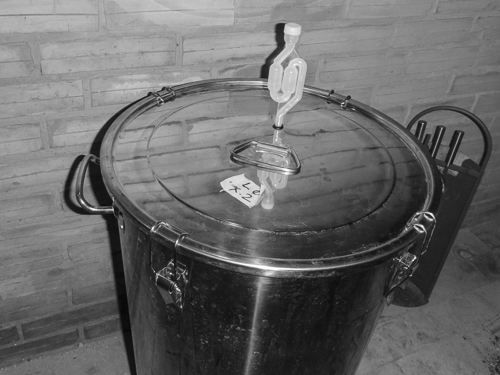 When the fermentation is finished, he removes the yeast or he lets out the beer. In any case, he pours the beer into containers and stores them in a fridge with a controlled temperature of about 0.5°C. This is the maturing process.
Mr. Szabó makes 100 litres beer a week and he works 16 hours per week. He asked me to calculate how much he produced per hour and that should be 100l/16h = 6.25 litres of beer per hour.
He starts making new beer while another batch is fermenting, he's reinvesting all profits, he's selling his products to friends and he sells a lot to doctors in Bucharest.
He wants to sell beer in bottles to a pub, bringing the bottles back to his place, removing the labels and washing them himself. Then, he can ensure that there is always fresh beer in the pub.
He will make draft beer later.
Some Romanian beers had good quality in communist times, but after 1989, Romanians discovered beers from Western Europe. Big breweries arrived, a price war erupted and in order to survive there were two possibilities:
1. develop a less lossy production.
2. use less ingredients, turning the beer into water beer.
Craft beer started being developed at the same time with aroma and content, but it's too rich and tasteful for many people.
He wants to make something in the middle between water beer and craft beer.
He follows the German clean law for beer-making using only water, hops, malt and yeast.
He glues labels to his bottles by means of milk. Then, he can wash them off easily after the bottles have been returned.
He's willing to exchange 4-6 bottles of beer with a bottle of good wine
He has three compost heaps, each one one year older than the others and all of them are fermenting and producing heat. After three years, he transfers some of the finished compost to the two other ones and he uses the rest as fertiliser.
During our visit, it was obvious that we were visiting an engineer: from modifying the beer-making set, the temperature-controlled setup for maturing the beer, the chicken coop and the compost heaps. This is a man who likes to solve problems and he does it in a practical way!