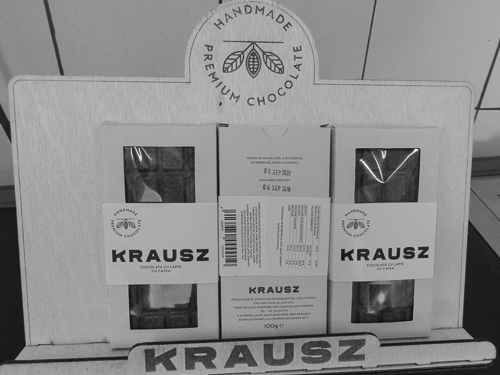 The chocolates made at this workshop
We met Mr Szilard Fazakas outside his family's house, next we entered the workshop located next to the house. It had been a stable, but he had converted it into a workshop with tiles on the floors and the lower walls.
Having passed his office, we entered the workshop where there were some idle machines together with a chocolate tempering machine constantly moving liquid chocolate.
When he should start his company, Mr Fazakas was wondering about a brand name and, at a family reunion, he discovered the name Krausz, the last name of his great grandmother. She had two daughters and the name disappeared. He thought it was perfect and catchy, immediately calling his company Krausz chocolate.
Instead of moving the liquid chocolate with spatulas, he used an infrared thermometer to measure the temperature of the liquid chocolate in a chocolate tempering machine.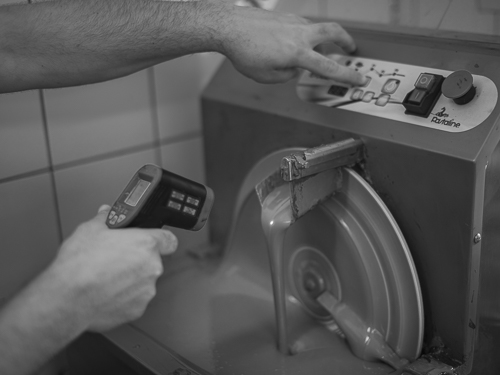 Measuring the temperature of the chocolate mass
Spots of cocoa butter are visible on the surface of the chocolate if not done correctly, a phenomenon, which is called crystalisation. An interesting video about crystallisation can be watched here. Mr Fazakas wants the surface to be shiny, smooth and brown, which he obtains by extracting liquid chocolate when it has the correct temperature.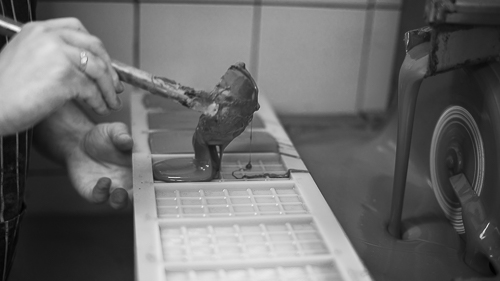 Pouring chocolate mass in a mould
He used a ladle to put liquid chocolate in a mould with symmetric voids, laid it on a shaker and let it be shaken for some time to get rid of bubbles and make the chocolate even before he scraped away the excess chocolate with a spatula. Next, he poured the contents of the mould into the chocolate bath and put it in a freezer.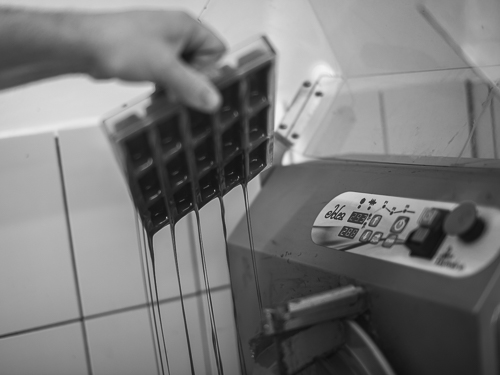 Letting excess chocolate leave the mould
When he took it out again, the voids in the mould were covered with a thin layer of chocolate.
Next, he put some walnut cream in a plastic bag and shaped it into a piping bag, cutting a small hole in the thin end.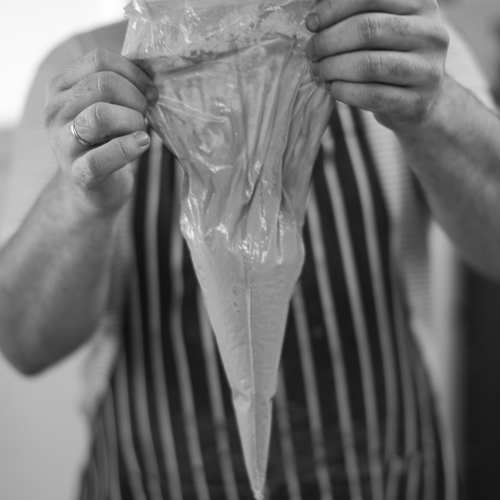 Walnut cream in a cone-shaped plastic bag with a hole at the base
He laid walnut kernels in each void of the mould covered by chocolate.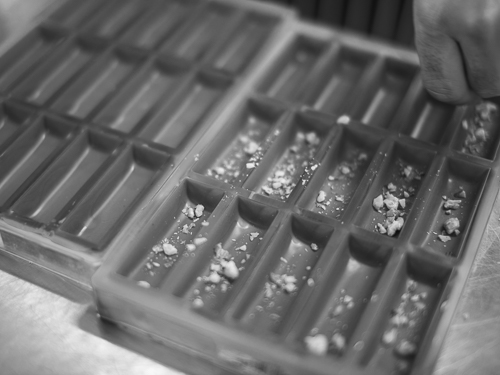 Putting walnuts in the voids of the chocolate
Next, he pressed walnut cream on top of the walnut kernels, filling the voids.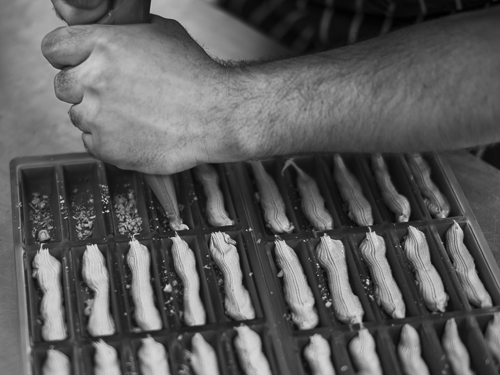 Putting walnut cream on each chocolate
Finally, he took chocolate with a ladle from the tempering machine and poured it over the complete mould. Thereafter, he scraped away excess chocolate, put it on the shaker and scraped away more chocolate. In the end, he put it in a freezer.
He also laid blackberries from this village on the surface of a still liquid chocolate lying in a mould.
Mr Fazaka's philosophy philosophy is to be a local producer, producing as much as people want to buy, but quality is more important than quantity. In fact, he spent 6 months to create a palette. Fortunately, there is a low health risk when making and selling chocolate.
Once, he should make 5000 chocolates for the pope's visit and he had to make a mould, a recipe and packaging. Unfortunately, the representative from the church was bargaining so much that he had to compromise on quality, meaning that the chocolates didn't measure up to his high requirements.
Another time, he made a mould for a coffee shop, but it was too complex and chocolate was remaining in the mould when he should extract it.
His greatest challenge is the packing machine, which he bought new, but it melts the chocolate and he can't use it. Anyway, he has a Hungarian packing machine, which is 80 years old and it works well.
He bought the shaking machine first, but it can also be used as a tempering machine. He's planning to reuse it together with the old packing machine. He wants to make chocolate with dried plum in this machine where the chocolate will be carried on a conveyor belt and be cooled down by means of air blowing over them.
He also needs to follow up printing companies tightly such that they make labels according to his wishes.
He's selling his products under another brand name in supermarkets and it gives him more profit. He also sells his products in flower shops and wine cellars under his own brand name. He prefers to have as many sellers and retailers as possible because he only wants to be an entrepreneur, experimenting, designing and producing chocolate. In fact, he wants to sell both chocolate, ice cream and cheese.
Mr Fazakas started making and selling ice cream in 2010 and stopped in 2018.
He buys cocoa from Italy.
He has a golden rule: never rinse the moulds with water. Instead, he melted chocolate in a mould with hot air, then removed the remains with a cloth.
He studied at a university in Cluj and he learnt chocolate-making there, but he prefers this quiet place to Cluj. It's a good place to grow up for his children and his family can get what they want from Mircurea Ciuc.
He got an EU grant for startup companies and he gets help from his parents.
Before VAT was 20% for all products, but now its 9% for food such that he can earn more.