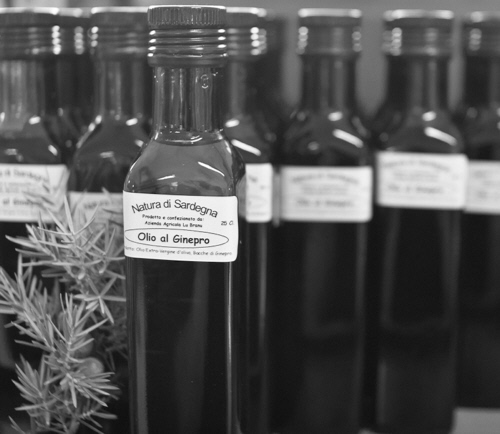 Along the road between the cities of Palau and Arzachena on the ridge of a hill separated from the coast of Smeralda by hills of granite, the farm shop la Bruttéa, meaning the spring, is placed. It has a wide selection of typical products like liqueur of myrtle, liqueur of wild olive (one of the representative plants of the maquis), and liqueur of goat's milk, an antique liqueur of Gallura, the region where la Bruttéa is located. In addition, they are selling olive oil, red wine. cheeses, sausages and cold cuts, fresh meat, fruits and seasonal vegetables. There, we met Antonello Colombano who manages the farm of the family, while his sister manages the farm shop.
After our visit at the farm shop, we went to the ethnographic museum of the Colombano family. First, Antonello told us about the familial traditions which had been passed on from his great-great grandmother. In the museum, there were buildings from about 1800 containing tools for making wine and olive oil, millstones, tools for plowing, a workshop for repairing tools and making new ones, etc. There was also an annex where vagabonds could stay overnight as long as they brought news from where they came as payment, meaning that the farm was isolated, indeed.
Having finished our visit to the museum, we went to the farm where they are raising animals. The pigs were outside, but inside a fence and being curious, almost all them approached us for a closer look. Instead, the piglets were inside a building, and we  heard them when we walked from the pigs to the wild boars. The wild boars lived inside another fence to which the adults stayed near, while two baby wild boars watched us timidly behind some bushes. After some time, they left the bush, but they always tried to have an adult between them and us.
Both the pigs and the wild boars looked very clean even though they love taking mud baths. Maybe it's too dry such that it isn't possible where they live.
The goats lived in a shed, while the kids lived separately in a small room. When Antonello liberated them, they jumped and ran around like gymnasts.
The hens and one rooster lived inside another fence and they approached us during our visit. Instead, the ducks, which lived inside the same fence, didn't notice us at all and continued what they were doing in a pool.
We also met a small donkey which was very timid. In the beginning, it stood rock still, but with Antonello nearby, it approached us gradually. Instead, the horses were on a field and we could just see them from a distance. Also the cows of the race "rustic Sardinian" were on a field far from the farm.
The farm has a workroom where food like gnocchi, ravioli and sweets, etc. are made manually. Likewise, meat, cold cuts and sausages are prepared in another workroom.
Cereals are grown for making flour and feed for the animals, like barley for the pigs. Vines, olive trees, wild olive, myrtle, vegetables like garlic, zucchini, pepper and tomatoes are cultivated. Medical herbs are grown among trees where each herb has a small sign describing its name and medical use. Legumes are cultivated for domestic use.
There is also a guesthouse and a large restaurant on their property where products made at the farm are served. The restaurant has been constructed using local materials like stones and wood, just like the ancestors of the Colombano family used to build their houses. The restaurant is wide and open consisting of stone arches, big windows, and a fireplace made of stone, while the height of the interior is quite high. There are also photos of their ancestors who lived in the buildings housing the present ethnographic museum. We finished our visit with a delicious dinner, beginning with pasta, sausages and pork for the main course and fruits for dessert. Naturally, we used olive oil made at the farm on the salads and we drank their wine Rosso di Surrau.
All in all, this farm is a place where the animals are treated well, they know well how their ancestors lives, but they use modern tools and machines, they are practising organic agriculture, a farm shop with a wide selection of very healthy products and their visitors are met with real pleasure.