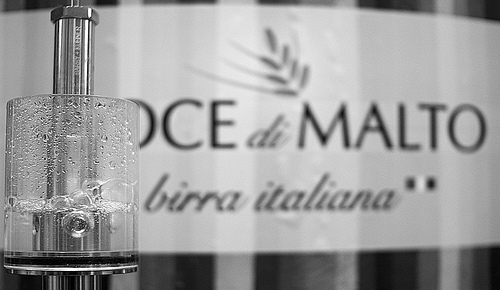 Croce di malto, a clever pun on croce di malta, which is a mechanism for driving film projectors and also a Maltese cross, while malto in Italian is malt in English, points to someone who knows his game and leaves nothing to chance. The owner, Alessio Selvaggio, studied food science before his partner made him start making beer instead. Beers of optimum quality, are made at this microbrewery, characterised by appealing tastes making them unique. This has been confirmed by winning first prize for best beer together with a platinum medal at "Mondial de la Biere 2009″ in Strasburg with their beer TripleXXX.
Some of the beers which are made at this micro brewery are as follows:
Hauria: inspired by beer from Cologne in Germany and characterised by a bitter taste
Triticum weizen: distinguished by a fruity flavour and a high gas content
Magnus: taste derived from malt and spices
Acerbus: a bitter ale whose taste derives from a diverse selection of hops
TripleXXX: a doubly malted beer
Temporis: a fruity, spring beer
Platinum: a Christmas beer
Umbra: characterised by wheat which has not been malted together with oats
Alessio told us that beermaking is constantly changing and new varieties are made continuously. It should be safe to say that he's a purist as regards beermaking due to that he doesn't pasteurize or filter their beers and only the cold is used as a preservative. Besides, he's very meticulous and fussy regarding the expiry date of their beers, which varies from beer to beer, but shouldn't exceed 3-4 months, in general.
More information about their beers can be found at the web site of Croce di Malto, with supplemental advice on what type of food should be eaten with what type beer, and also what type of glass with which to drink the beer.
They are also arranging informal beer evenings, and they are providing technical assistance to would-be brewers. Besides, they are thinking about selling their beers in bottles at various shops.