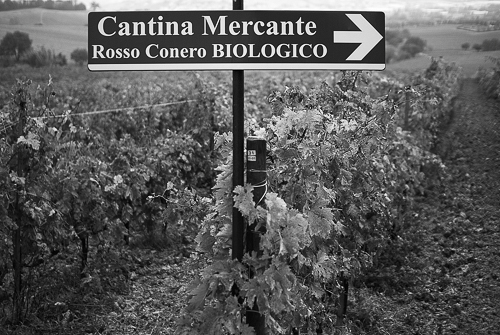 This is a family-driven wine farm where the production and storage of the wine takes place in the same house as where the Mercante family lives, and the vineyards are located next to their house. They bought a vineyard next to their property from an old farmer in 1999, assuring the new owners that the vines he had planted 20 years before were still producing grapes of optimum quality. Replacing the old vines with new Rosso Conero DOC vines the same year, they were able to produce their first full harvest in 2004.
The philosophy of the Mercante family is always to do only what is required with the vines, leaving as much as possible to nature.
We were shown around their combined shop and wine production premises by Adriana Mercante, the owner of the farm. They are cultivating Sangiovese and Montepulciano and they are producing red wine called Rosso Conero and rosé wine.
The vines cover an area of about 5 hectares, and pruning is carried out by experts in winter.
In order to counteract mildew on the vines, a powder containing sulphur and copper is used. Use of this mixture is allowed in organic farming due to the fact that it only stays on the surfaces of the vines. Before use, the powder is mixed with water and the mixture is poured into a cistern. Then, it is towed by a tractor and sprayed onto each row of vines.
Traps containing pheromones are used in order to attract and finish off male insects, which are harmful to the vines.
Removing herbs between the vines is done mechanically with a tractor and manually using hoes.
The organic wine made at the farm is not filtered much: crystals, which look like sugar, occur at the bottom of each bottle, which is really a residue from calcium, a salty and natural deposit. Filtering repeatedly will remove parts of the substance of the wine.
Different types of wines may be obtained from the same grapes as described below:
rosé wine – the grape skins remain for a short time in the must, which is freshly pressed grape juice that contains the skins, seeds, and stems of the grapes (about 10 hours) .
red wine – the grape skins remain for a longer time in the must (7-15 days).
The dregs are deposits of the vegetal materials which form sediments in the containers and is formed during fermentation, ageing and storage. They have to be destroyed according to Italian law at authorised distilleries for producing grappa in in order to avoid fraud using the dregs to produce wine by means of chemicals. The dregs are transported to a distillery in Perugia and a packing list is mandatory.