Driving on a narrow gravel road, passing the ski jump at Skui, we arrive at a lovely, cultural landscape where farmer Johan Persbråten has his paradise. About 500 sheep, tens of cattle, horses with foals, shepherd dogs, an elkhound, a nosy rooster and probably even more animals keep Johan and his wife with company at their organic farm.
Contact information:
Phone: 67 13 60 52/91 57 79 04
e-post: joludper@online.no
From Soil to Table visited Johan Persbråten on a balmy evening in August in order to get to know his daily work, pleasures and challenges. Following Johan out on a big field, he went before us in order to calm his animals and preparing them for another visit. Approaching slowly, we got within a few metres of his cows and oxen. Obviously, peace and quiet ruled both man and animals. The huge ox was called Caesar, while a peaceful Scottish highland bull was called Alexander. He's named after Alexander the great, Johan said, but since he is so small, I called him Alexander. After having watched us from a distance some time. Alexander approached us within touching distance. I'm breeding animals which I sell to other farmers when they are about 1 year old. Although I have raised them according to organic farming, I don't require that the buyer will do the same leading to that the animals may be transferred to a conventional farm.
We were also followed by two shepherd dogs looking for sheep to herd. When they became too eager, Johan stopped them by issuing short, sharp commands which the dogs obeyed for some time before starting again.
Walking to another enclosure, we could see a flock of sheep grazing. He's raising both the conventional, white sheep together with Norwegian short-tailed sheep. Although he gets 10 times more paid for the wool from a white sheep, almost each time they are bearing a lamb, complications arise and Johan has to aid them. On the contrary, the short-tailed sheep manages the birth on her own, and she's also were good at taking care of her offspring. Most of his sheep were grazing outside in the forests surrounding Johan's meadows where they are keeping the forests open since they are eating fresh shoots. I'll collect the sheep in September, Johan said.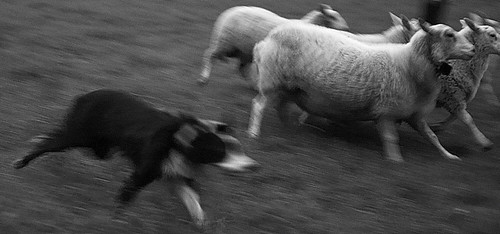 We got to see the shepherd dogs working, obeying Johan's commands like left and right, herding the sheep according to Johan's wishes. What characterised everything was the serenity which surrounded the landscape, the animals and the farmer. Unfortunately, the quiet was interrupted occasionally from a nearby shooting range. According to Johan, the animals are used to it, and the noise wasn't so bad during our visit. However, depending on the direction of the wind, it can be much worse.
Johan is selling his products to upscale supermarkets in and in the vicinity of Oslo. He's also selling organic meat to the Øya festival to which he has been selling for 6 years.
How does the slaughter of the animals take place? I'm using Fatland in Oslo meaning that the animals are transported a short distance only. How about using Mobilslakt, a company where the butcher comes to the animals, instead of the animals coming to the butcher? Have you thought about that? Animals, which have to stay some time at a big slaughterhouse, may stress them leading to a poorer quality of the meat, I said. Yes, I would of course prefer the butcher arriving here, but the Norwegian Food Safety Authority doesn't accept it.
After having returned home from the farm, I was wondering how to describe our visit in an interesting way, I googled Alexander the Great whose height was only 1.68 metres. After having sent an SMS with the above information and stating that Alexander could certainly be called Alexander the Great, Johan promptly did so.
Johan lets his animals graze on various islands in the Oslo fjord on order to keep them open. In the summer of 2016, he released some ox calves on an island, but they didn't want to stay. Instead, they swam ashore and locals called the police to tell what had happened. The end of the story was that Johan had to let a cow stay with the young oxen on the island.
It's possible to buy mutton directly from this farm since slaughtering single animals for buyers who arrive at the farm is allowed. Some years ago, I went to the farm in order to buy mutton. I selected a male lamb in the barn, next Johan brought it outside, stunned it by means of a bolt gun, then he suspended it by its hind legs and slit its throat. Afterwards, he cut up the animal expertly, dividing it up in various pieces ready to be cooked.