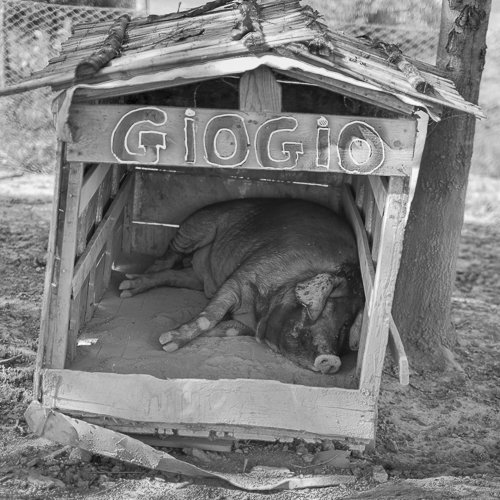 During our visit to the town of Alberese, we found a poster stating that visitors were welcome to visit a farm nearby in order to see typical domestic animals of Maremma.
Just after having entered the property of Pulledraia, we could see two ponies inside an enclosure. As expected, giving them fresh grass, which was growing just outside their range was very popular. One of them also readily accepted the caresses of my guide.
Having left the ponies to their own devices, we started walking along a grassy path being enclosed on both sides by a wooden fence. Having passed a vineyard and lot of pine trees, we arrived at a group of Maremmana cattle. Some of these beautiful animals, all of them grey or greyish white and having huge horns, raised their heads to watch us, while others went on ruminating, ignoring us. Anyway, it was good to see a group of these cattle living in complete tranquillity, doing whatever they wanted.
Next, having followed the path and for every few hundred metres we met a group of domestic animals like donkeys, buffaloes, goats, sheep and a huge sow sleeping in a "doghouse".
Walking along the path, we soon discovered that we were following a square or a rectangle. On our way, we passed large canals, having a depth of, say, 2 meters and a width of, say, 4 metres, passing through green fields. I thought they were made for dampening the effects of heavy rain, but, instead, they were made during the 1920s. Then, large parts of Maremma were covered by water and swamps and it was necessary to drain the land by means of canals in order to reclaim it.
We also passed fields planted with salad, grass, olive trees and fields having just been plowed.
When we were approaching the farmhouse, we met Bruno Turcho, the owner of the farm together with his wife Luciana. He's from Salerno and he has lived in this area since 2002. He kindly invited us into the dining room, which had been skillfully restored: imposing wooden beams suspending the ceiling and a massive wooden table around which their guests at the guesthouse were invited to sit, talking to their hosts and the other guests twice daily. Bruno also generously offered us to taste ham, cheese and wine, all of them made at this farm. Naturally, we couldn't refuse this unselfish offer, attractive to the eyes and delicious to the palate.
As described on the web site of this farm, it wasn't divided into small plots during the Land Reform acts of the 1950s  Instead, something dramatic happened during the First World War. Then, this land was owned by an Austrian dynasty called Habsburg-Lorraine and, since Italy was fighting Austria, the property was transferred to the duchy of Lante della Rovere. Next, the Italian government expropriated the land around the town of Alberese in 1923 and gave it to the Opera Nazionale Combattenti (ONC) in 1924 in order to give the land to former soldiers.
The ONC reclaimed the swamps and divided the land into about 100 properties giving them names from battles of the First World War (Bainsizza, Montegrappa, Pasubio, Montesanto, Gorizia and Monte Asolone).
The web site also describes that the family, which runs the farm, have planted many orchards: peach, cherry, pear, apple, fig, plum, apricot, grape and persimmon. A large part of the fruits is used to make jams, various sweets and even for production of digestives, all of them consumed at the farm.
In addition, vegetables like artichoke, asparagus, tomato, green bean, zucchini or courgette, eggplant or aubergine, pepper, cabbage, Savoy cabbage, broccoli, spinach, chard, watermelon, etc. with which many typical dishes are prepared.
They also collect berries and wild herbs like laurel and myrtle for making traditional liquors and they cultivate cereals whose flour is used to make bread, pasta, sweets, cakes and soups.
Besides, they raise poultry, rabbits and pigs whose meat is used to prepare traditional dishes from Maremma, but also game from e.g. wild boar provided by friends who are hunters.
The agriculture, which is put int effect at this farm, is organic. That is, all the plants are grown without using any artificial fertilisers, herbicides or pesticides. In order to enrich the soil, they are practising crop rotation every third year meaning that the same type of plant is grown in the same field every 3 years. Growing alfalfa makes nitrogen from the air enter the soil by means of bacteria in its root nodules. Moreover, they are using local seeds, which are particularly adapted to the soil at this farm.
By doing organic farming, the groundwater, which is used to water the pants, isn't polluted.
The guesthouse at this farm was born from a dream: regain possession of one's own time and restore the right priorities of life. Life nowadays is, in general, very busy and there is no time for talking, exchange experiences and viewpoints in a calm way.
The owners of the farm also thought about creating an oasis for themselves, their family and those willing to join them, sharing the passion of genuine tastes and traditional home-made food together with enthusiasm for the lovely region of Tuscany.
They also make marinated vegetables and vegetable creams, which are offered to their guests, with whom they like to talk about life in the countryside and cooking.
For those who like to spend some time in the countryside, Pulledraia is a very good choice with its beautiful surroundings, peace and quiet. The Natural park of Maremma is nearby for those who want to go hiking, swimming, etc., while the town of Alberese is within walking distance.