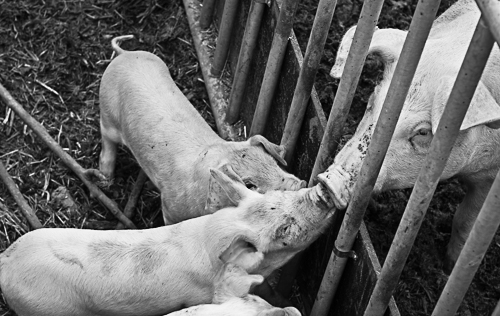 Ramme farm, whose aim is to give rise an increased interaction between sustainability, environment and culture is located at Hvitsten in the county of Akershus in Norway.
The farm has been managed organically since 1986. Many staples, like vegetables, herbs, flour, eggs, pork and beef are among the goods you can find in the farm shop.
Farm manager Håkon Nesheim showed us around the farm. We saw organic eggs being taken from the henhouse to the farm shop, meaning that the eggs were ready for sale minutes after having been laid. A great example of shortly travelled, organic and sustainable handling of food.
We followed Håkon to the tomato nursery where delicious organic tomatoes were being cultivated. Tasting a mature tomato brought me back to my yearly summer visits to Liguria in Italy. Here, flavour, taste, bliss and acidity were in a perfect balance. The mature tomatoes were picked and brought to the farm shop for sale every day.
Watching the farm's piglets playing and greeting the grown-up pigs by touching their snouts was a delightful sight. Cows, which are supplying the farm with milk, were grazing on a meadow next to the pigs' enclosure. Neighbour and cheese producer Den Blinde Ku (The Blind Cow) also receive some of their milk from Ramme farm. Farm manager Håkon also told us that he had delivered spelt (a species of wheat) to Holli Mill which is located nearby and which we have visited earlier
The gardeners on the farm were also working hard in order to prepare the farm for the coming weekend's garden and early summer party. They were expecting a lot of visitors who wanted to buy bushes and perennials. Ramme farm could also offer cultural activities like watching plays being performed and listening to bands playing this weekend.
We have watched the way from soil to table at Ramme farm, a way which has been a pleasure to follow. We recommend going there in order to spend a slow day. Leave the stress at home and take your time to enjoy watching domestic animals, nature and human beings in balance.
In addition to cultivating organically and raising farm animals, Ramme farm is also dedicated to permaculture. Besides, they are using an ingenious way of heating the buildings by means of wood chippings and branches from their own forest. Plans for the future include a Munch gallery and a place where visitors can stay overnight is under construction. In other words, Ramme farm is continuously being developed with organic, sustainable and cultural elements well integrated in everything they are doing.