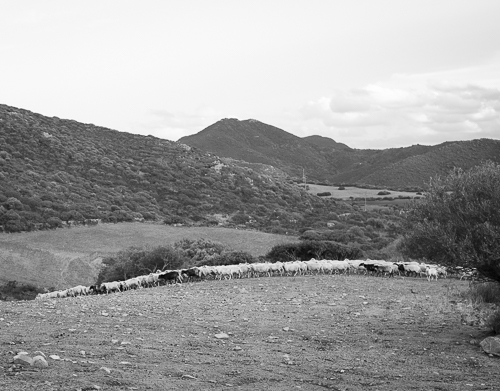 Sa Tiria is located on land where members of the same family have been cultivating fruits and vegetables besides raising sheep and pigs for more than 100 years. About 12 years ago, they decided to build a guest house together with an on-site restaurant, all of excellent quality.
The area of Sa Tiria amounts to about 150 hectares, including the guest house, houses for the family, a garden, a barn for the sheep, a pen and a small pool for the pigs, olive forests, fields where they cultivate vegetables and fruits, meadows where the sheep can go grazing and fields for cultivating fodder for the sheep, in particular, in dry periods. The property also covers a large area of sparse trees with Mediterranean scrub.
There is also an abandoned quarry, where granite was extracted some decades ago, at the foot of the hill behind the farm.
The farm and guesthouse is located between the hill and the country road, while the sea is located about 1 km in the opposite direction.
Both the interior and the exterior of the guesthouse look very attractive, while it is surrounded by an ample parking space and a rich diversity of local trees and flowers. The guesthouse is managed by the sisters Carla and Linda, while their brothers Lucio and Salvatore take care of the farm. Their parents live next to the guesthouse, but leave the daily running to their children.
The on-site restaurant is large, high-ceilinged and airy, while a modern and functional kitchen is located in an adjoining room. An environment filled with fragrances of local dishes and where all the meals for the guests are made.
Every morning, one of the sisters would prepare a delicious breakfast of bread, home-made jams from strawberry trees, quince and plums together with yogurt and various sheep's cheeses and cold cuts, fruit juices, home-made pastries and of course tea and coffee. A well-assorted selection of fresh, organic fruits was always available. While not cooking, they seemed to be always busy cleaning the premises. Besides, they were knowledgeable and always willing to share information about places worth seeing, spectacular beaches and anything else which could interest their guests.
The wholesome and ample dinners were also made from local ingredients and using local recipes. Starters were followed by various pasta dishes, while the main course could be e.g. roasted lamb or piglet accompanied by boiled vegetables, mixed salads, olives and roasted potatoes, followed by local cheeses, fruits and pastries. To drink, a bottle of wine was available together with water and a glass of myrtle was offered at the end of each meal.
The fine rooms were located sequentially next to the restaurant, while a terrace extended along the whole building. Comfortable garden furniture was outside each room such that it was possible to relax outside the rooms in the balmy evenings or any other time of the day, sensing the scents of the abundant Mediterranean vegetation on the property.
One evening, we followed Carla for a walk around the farm. The sheep were outside eating hay provided by one of her brothers. All or most of them were pregnant and they didn't produce milk, but there was a room where the sheep could be milked after they had born lambs because, in general, they produce more milk than is required by their offspring.
We also paid a visit to the pigs, which had a large pen all for themselves and a little pond where they could cool themselves on hot summer days. Like many pigs, they looked at us curiously and expectantly, waiting for a treat.
Having stayed for four days at this welcoming place, we said goodbye to Carla and continued our journey along the south coast of Sardinia.