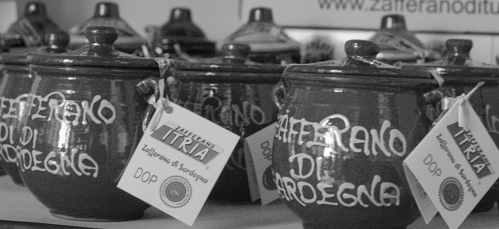 On the outskirts of the village of Turri, there is a company called Zafferano Itria meaning Saffron Itria, one of the leading producers of saffron in Sardinia. Fertile fields nearby on which they are cultivating saffron, really a crocus from which they extract saffron, besides oregano and chili pepper. A family-run enterprise which was started almost by chance by Itria whose great-grandparents, grandparents and parents had been cultivating saffron. At the Festival of Saffron of Turri on 4 November 1995 Itria presented her saffron in small glass jars and thanks to its warm reception, something which had always been cultivated for their own consumption, was gradually transformed into a real company.
During the yearly Festival of Saffron at Turri, visitors can watch the crocus flowers, participate in extraction of saffron and taste typical, Sardinian dishes based using saffron as a spice.
Due to the great success at the festival at Turri, Itria decided to participate in a Christmas fair in Cagliari in December the same year and an international fair in Sardinia the year after where she presented a new batch of saffron. 18 years later this company is the largest producer of saffron in Italy, offering a wide selection of high quality products derived from the richness of their fields.
Cultivating saffron implies maintaining a tradition dating from antiquity since both the Greeks and the Romans were cultivating it and were using it to cure diseases, as perfume, votive offerings, cooking, colouring clothes, etc. After the Roman empire collapsed, it was the Moors who reintroduced it to Europe. The word saffron is derived from the Latin word safranum, which in turn is derived from the Arab word zaʻfarān (زعفران) which is the arabicised form of the Persian word زرپران zarparān, zar + par + -ān—"having yellow leaves.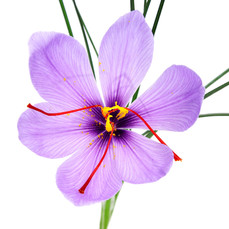 Saffron is a spice which is extracted from the plant Crocus sativus with petals whose colours are light pastel shade of lilac to a darker and more striated mauve. Each flower has a three-pronged style and each prong is terminated with a vivid crimson stigma, which is the only useful part of the plant, that is saffron. Crocus sativus is a perennial plant, which only flowers in November, and during the short flowering all the flowers are collected manually. Then, they are brought to a room where the stigmas are picked one by one within a few hours of the harvest because the flowers deteriorate rapidly. This delicate operation consists of removing the red stigmas by hand requiring lots of patience and dexterity. The stigmas are dried in a drier, then preserved in hermetically sealed, tin-plated containers because the presence of oxygen would deteriorate the quality of the saffron. Since the saffron is marketed as D.O.P. (Controlled designation of origin), it is subjected to a chemical analysis, which verifies the naturalness of the product and the total absence of pesticides.
This company is also cultivating oregano, a wild plant of Sardinia. The leaves are harvested and dried at low temperature giving a product with a strong fragrance and which has a shelf life of years.
Laurel is native to Sardinia and its leaves are collected and dried at a low temperature giving another product with a strong fragrance and a very long shelf life.
Berries of myrtle, another native plant of Sardinia, are also picked and dried in order to add a strong aroma and intense taste to myrtle liqueur.
Red chili pepper, a plant which originates from South America and was imported to Europe by Christopher Columbus in 1493, is also cultivated next to the building housing the company. Slow drying at low temperature gives the resulting product a very spicy taste. Here is a recipe for taco soup with charred corn and peppers.
The people working at this company are very proud of offering products which they define as genuine since they are controlling the whole process from producer to consumer, distinguishing their products by means of high quality and authenticity from a specific area, Turri in Sardinia.
This web site describes spices in more detail.