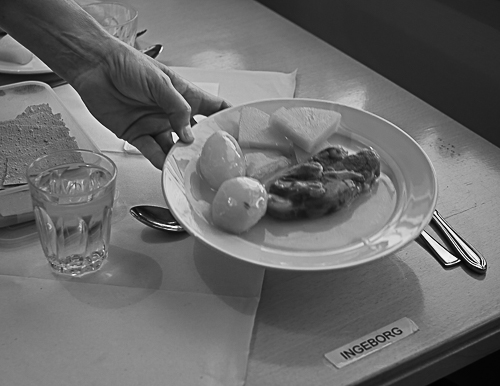 What sort of food are the elderly being served? How is the the food and the joy of eating at homes for the elderly? In order to find out more about this, we went to a place called Kapp in the vicinity of Mjøsa, Norway's largest lake.
Since we are doing a "soil to table" project trying to direct attention to small scale food producers, we were welcome to enter the home, talk with the residents and photograph the cook working and the elderly eating.
I, Per Christian Bakken, and phtotographer John Tollefsen arrived at Kapp home for the elderly some time before dinner at one o'clock. We wanted to have a chat with the cook Torunn Solhaug and with some of the residents in order to find out what the food and the meals mean for their daily lives. After having served ourselves lunch at the home, the cook Torunn told us about the food she was making for the residents. That is, she's always trying to make meals based on old Norwegian traditions and which the residents will always recognise, like tasty, rich sauces with butter and cream meaning that the fat content is less important than the taste. Besides, boiled vegetables which were eaten(1) was more important than boiling them for a short time in order to keep the nutrients inside the vegetables.
Chatting with three elderly ladies showed that they were very knowledgeable about food. Ingredients, butchering, cheesemaking, traditional meals, taste and enjoyment are just some of the subjects we were discussing during our conversation. What's your favourite food? I ask. Ingrid Frydenlund and Ingeborg Sæther were agreeing that fresh soup with dumplings and flat bread were the best meals they could imagine. Aslaug Aagenæs wanted beefburgers with fried onion. Torunn served the dinner consisting of lamb's shoulder with turnip cabbage and potatoes together with a rich sauce. Kudos for exchanging the ordinary knives with steak knives. Small details which increase the experience of the food.
We need real, boiled food, Ingeborg says and goes on telling us about what happened when her set of artificial teeth disappeared, meaning that she wasn't able to chew for a long time and she had to eat porridge and pancakes.
Now I shall tell you a story, Ingeborg says. At the time of year when the animals get slaughtered, a young girl had got a bucket filled with blood together with a calf's head, all of which she should bring home. However, on her way home, she fell, making her lose the calf's head and tipping over the bucket. Then, a grown-up man came walking. All is well with me, the girl said – but not so good with him over there, the man said, looking at the blood and calf's head. Maybe it's just as well, he continued, since he would never have turned out well. You must be joking, Aslaug tells Ingeborg, adding she had never heard about this story. Haven't you heard it? the story teller said merrily.
After dessert, the ladies are really satisfied. The food is good now, Aslaug tell us, but it wasn't like that before. I remember well when we got mutton and cabbage stew, really a bone with some meat on, together with hard cabbage and hard potatoes. I wasn't able to eat it and had to return it, Ingeborg says (2).
How about the other meals? I ask. The period between supper at 6 in the evening and breakfast can occasionally be very long. Both of the ladies are nodding and saying it's important to set aside a little for yourself, then, all will be well (3).
We thank the ladies for the enjoyable conversation. Summing up, we talked about good, traditional food, the meals and the environment in which it was eaten. and not at all about nutrients. A menu, which listed meals the residents could recognise, and a dinner they could look forward to. Smells and sounds from the kitchen reminding the residents that something tasty is being prepared for them is also contributing to a positive milieu. Food, which was eaten with pleasure in a safe environment, where the talk was about all sorts of things. All in all, we had been experiencing pleasure at smelling and hearing food being prepared together with enjoyment at eating it, a meal well worth remembering.
Footnotes:
1. Regarding food which the residents don't eat, this is causing lots of waste at public institutions. The biggest hospital in Denmark has changed from having one enormous kitchen to meals which are listed on a menu giving the patients more meals to choose from leading to reduced waste and lower expenses.
2. Kapp home the elderly was not chosen by accident. They have had their own cook and a kitchen located next to the dining room such that everyone could smell and hear food being prepared and making the residents having something to look forward to. However, one and a half years ago, the kitchen was closed down, the food was prepared somewhere else and freighted to the home for heating and serving. Rumour has it that the municipal politicians had made this decision based on 27 tightly written pages from an expert with ready arguments. Better economy and more nutritious food were some of the benefits which made them change their minds. However, something didn't go as planned. The elderly residents didn't like the new, modern and nutritious food. Instead, they and their relatives protested, saying that they wouldn't accept it. Wise politicians changed their minds again, letting the residents keep their cook and their traditional meals.
3. Research on food being served at homes for the elderly – 570 of 886 homes for the elderly in Norway have participated in a poll which Heidi Aagaard from Østfold University College has done for the Norwegian Directorate for Health. One of the conclusions is that the residents want to have more say in what sort of food they are served.