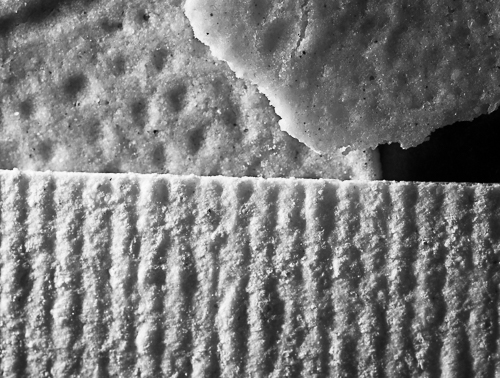 Pea bread is produced at Kapp near to Mjøsa, the greatest lake in Norway, and all the ingredients are grown within sight of the little factory Holmen Crisp, the world's only producer of flat pea bread.
Flat pea bread is made of rye, wheat and pea flour. Rye and wheat are cultivated by local farmers, Håkon Rostad tells us, while the pea flour was freighted a long distance during the first years of the factory's existence. That is, it was freighted all the way from the U.S.A. to Norway. Due to a strong price increase of oil in the 80s, which again led to a higher price for pea flour, the factory had to look for cheaper supplies elsewhere.
We got an agreement regarding supplies of pea flour in Sweden since the Swedes have a quite big production of yellow peas, and because it's a tradition to eat homemade pea soup on Thursdays, for some reason.
In 2009, the director of Holmen Crisp Håkon Rostad, met his neighbour Hans Petter Enger accidentally and as luck would have it, he was cultivating yellow peas. Now, Holmen Crisp is buying shortly travelled peas from Mr. Enger. The peas are sent to a flour mill called Holli mill before being returned as flour.
Since more than 70% of Mr Enger's production of 35 tons are sold to Holmen Crisp, he's planning to set up his own flour mill, making production of the flat pea bread even more local.
How about the design on the package, I ask, has it always been like this? Yes, it's been like that since its inception about 60 years ago. The only change has been the package size, which has been changed from 450 to 400 grams in order let it feel easier for the supermarkets to put the packages on their shelves. We regret this now, continues Håkon since most of the sales of flat pea bread is associated with eating rakfisk, a freshwater fish which has been fermented for 2-3 months. Most of the customers buy a package of flat pea bread for their yearly rakfisk dinner and don't think about the weight, meaning that they are buying as many packages as before leading to a reduced volume for us.
Regarding the spelling of flat pea bread in Norwegian, both ertebrød and erterbrød (ert is pea and brød is bread) are allowed although the first one feels more "natural".
We thank Håkon for letting us visit him. Both I and photographer John Tollefsen agree that this was according to the Slow Food guidelines since they state that the food should be good, clean and just. The flat pea bread tastes good, nobody is injured and nothing is degraded during production, and fair since the suppliers and the workers are paid fairly.